Wonton Cups full of yummy bacon, jalapeños (or green chiles if you're a wimp), cream cheese, cheddar cheese, and sour cream make the perfect party or game day appetizer!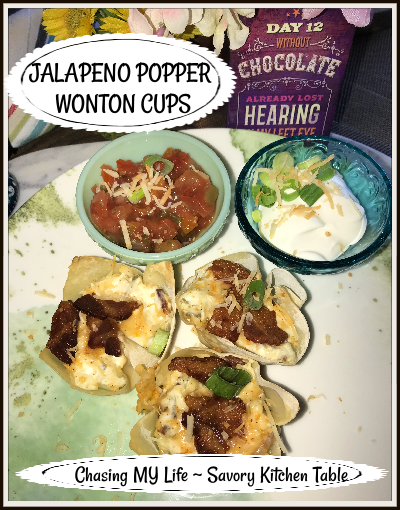 JALAPENO POPPER WONTON CUPS Yield: 12
12 wonton wrappers, (you'll find them in the produce section for some weird reason)
4 ounces softened cream cheese
1/2 cup sour cream, plus more for serving
3/4 pound bacon, cooked & crumbled, reserve 2 tablespoons
1 cup shredded cheddar cheese, reserve 2 tablespoons
3-4 jalapeños, seeded and chopped (for more spice, do not remove all the seeds and for wimps substitute green chiles – I used HOT green chiles for a middle of the road)
diced green onion for serving

Preheat oven to 350°.

Spray muffin pan with non-stick cooking spray.

Place one wonton wrapper in each muffin cup; bake 10 minutes or until lightly browned.

Remove from oven and cool slightly.

In a medium-sized mixing bowl, stir together the cream cheese and sour cream until smooth.

Stir in bacon pieces, cheddar cheese, and chopped jalapeños or green chiles.

Spoon filling into wonton cups, then sprinkle with reserved bacon and cheese.

Return to oven and bake for an additional 8-10 minutes, until wontons are golden brown and the cheese is melted.

Serve with a dollop of sour cream and sprinkle of diced green onion.
VARIATIONS ON THIS RECIPE:
Bacon can be replaced with ground beef, crumbled sausage or small diced ham

Add crumbled blue cheese, Gorgonzola or flavor of choice


Substitute a flavored cream cheese for the plain cream cheese

Use a Mexican Sour Cream instead of plain

Add chopped red peppers

Add chopped onions