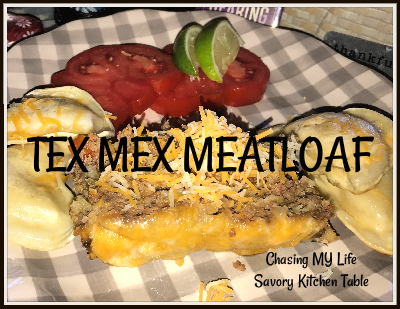 TEX MEX aka MEXICAN MEATLOAF
4 cups shredded hash browns, cooked crisp
1/4 cup salsa
1 LARGE egg
1/2 package KNORR vegetable soup mix
1 tablespoons KINDERS taco seasoning
2 cups shredded taco blend cheddar cheese, divided
2 pounds ground beef
1 tablespoon chopped FRESH cilantro
Sour cream and Salsa, for serving
Preheat oven to 350°.

Whisk together the egg, soup mix and seasoning in a small bowl.

Crumble beef into a large bowl.

Pour egg mixture over meat.

Add salsa and 1 cup of the cheese and gently mix all together blending well, but not overworking the meat.

Shape into loaf.

Bake 1 1/4 hour.

Sprinkle remaining cheese over top and bake 5 minutes more until cheese is melted.

Let stand 10 minutes before slicing.

Sprinkle with cilantro.

Serve with additional salsa and sour cream.