Ever wondered what the difference is between a soup, a stew and a chowder?
A soup is usually made with stock or broth and can have vegetables, meat or fish as ingredients and is generally not very thick.
A chowder may have the same ingredients as a soup or even a stew, but is more chunky, creamy and thick. It is often prepared with milk or cream and thickened with broken crackers, biscuits, or a roux. A chowder is also usually made with fish and corn.
A stew is made by sweltering the ingredients in a covered pot.
You can do this the easy way or the easier way, both taste just as delicious.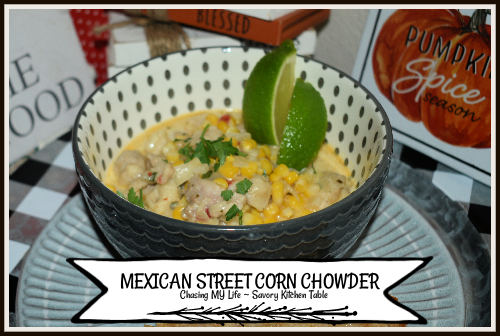 MEXICAN STREET CHICKEN CORN CHOWDER serves 8-10
5-6 cups FRESH corn (about 10 ears)
6 slices thick bacon, diced
1 LARGE Vidalia onion, chopped
1 LARGE red pepper, seeded and chopped
1 can HOT diced green chiles or jalapenos
FRESH ground sea salt and black pepper, to taste
1 teaspoon red chile flakes
2 1/2 cups rotisseries chicken pieces
1-2 cups homemade chicken broth
Juice and zest of 1 LARGE lime
1 cup heavy whipping cream
GARNISHES
FRESH chopped cilantro
lime wedges
sliced jalapenos
chopped bell pepper
Cut corn from cobs, reserving corn juice as you go. You should have at least a cup of corn juice, preferably two. Add enough of the chicken broth to make it a total of 2 cups.

Add corn and juice to slow cooker.

In a large skillet, cook bacon pieces over medium heat until crisp. Remove with a slotted spoon to paper toweling to drain.

Reserve 2 tablespoons of bacon drippings and add onions and peppers, sauteing 3-4 minutes.

Add red pepper flakes, green chiles or jalapenos, FRESH ground sea salt and black pepper, stirring to blend.

Add to slow cooker, stirring into corn mixture.

Cook on low 3 1/2-4 hours until corn is tender and mixture has thickened slightly.

Stir in chicken pieces during the last half hour.

Stir in cream and lime juice.

Garnish with zest and desired toppings.
NOTE: If you are in a hurry this can all be done on the stove top, but I highly reccomend the slow cooker for a deeper flavor.