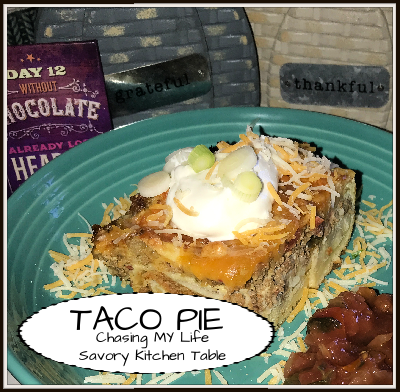 Who doesn't love a bowl full of the ultimate comfort food? You guessed it, deep dish layered taco pie.
 Especially if you add some homemade salsa, some Mexican sour cream and maybe some cilantro…

TACO PIE
1 1/2 pounds ground beef (or a COMBO of ground pork and beef)
2 tablespoons KINDERS taco seasoning
1 can Rotel diced tomatoes & green chiles, drained well
1 cup shredded cheddar cheese
1/2 cup biscuit mix
1 cup WHOLE milk
3 LARGE eggs
Sour cream, for garnish
Chopped green onions, for garnish
Salsa, for garnish
Preheat the oven to 400º.

Spray a 9″ deep baking dish with non-stick cooking spray.

Heat a cast iron skillet over medium heat.

Add ground beef, browning until the beef is no longer pink and crumbled small.

Drain off any fat.

Add in the taco seasoning and Rotel, mixing well and heating through.

Spread the beef mixture in the bottom of the prepared baking dish.

Sprinkle the shredded cheese over the top.

In a small bowl, whisk together the biscuit mix, milk and eggs.

Pour evenly over the beef and cheese.

Bake for 25-30 minutes or until the middle of the pie is set and the top is golden brown.

Serve immediately garnishing as desired.