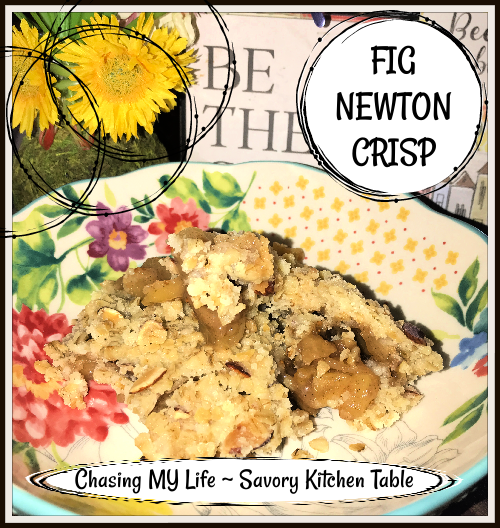 FIG NEWTON CRISP
1/4 cup PACKED brown sugar
Pinch of salt
1 tablespoon WONDRA flour
1 tablespoon salted butter
1/2 cup dried figs, diced
3 CRISP apples, cored and diced
1 orange, juiced
1 teaspoon cinnamon
1/2 teaspoon FRESH grated nutmeg
Preheat oven to 375°.

Grease an 8×8 baking dish.

In a LARGE skillet melt 1 tablespoon of butter.

Add apples, brown sugar, orange juice, figs, cinnamon, nutmeg and a pinch of salt.

Saute 3-5 minutes, stirring occasionally, until liquid is reduced.

Add Wondra flour cooking and stirring 2-3 minutes more until appleas are tender and everything is well coated.

Transfer to prepared baking dish, spreading into an even layer.

Let cool 5-10 minutes.
CRUMBLE
2/3 cup all purpose flour
1/2 cup rolled oats
1/4 cup sugar
Pinch of salt
2 tablespoons small chopped walnuts
4 tablespoons salted butter, chilled and small cubed
Mix the flour, oats, sugar, salt, walnuts and butter together. Use your hands to work the butter into the dry ingredients until coarse crumbs form.

Sprinkle crumble evenly over the fig mixture.

Bake 24-28 minutes until topping is browned and filling is bubbly.

Let stand 10 minutes before serving.