They are easier to eat and you get more coated surface that's ooey gooey tasty 😀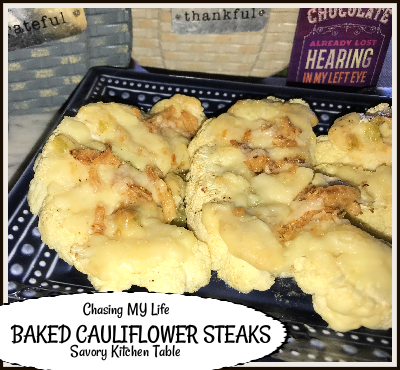 BAKED CAULIFLOWER STEAKS
1 head cauliflower hard pieces and stem removed, but head intact.
1 cup Duke's Hint of Lime mayonnaise
1 tablespoon champagne vinegar
1 cup shredded Parmesan cheese
1/2 cup shredded white cheddar cheese
2 cloves garlic, FINELY minced
1 tablespoon FINELY chopped Italian leaf parsley
FRESH ground sea salt and black pepper
Preheat oven to 375°.

Bring a large pot of salted water to a boil.

Add cauliflower for 5 minutes, drain and pat dry. Cool slightly.

Coat baking sheet with non-stick cooking spray.

Slice cauliflower into "steak" slices and arrange on baking sheet in a single layer.

Mix together the mayonnaise, vinegar, Parmesan cheese, cheddar cheese, garlic and parsley.

Spread the mixture evenly on the cauliflower steaks.

Bake in the oven 15-20 minutes until golden and cheese is bubbly.