This is the BEST recipe for the upcoming fall season. I made it last year for both Thanksgiving AND Christmas!! And I will again this year it was so good 😀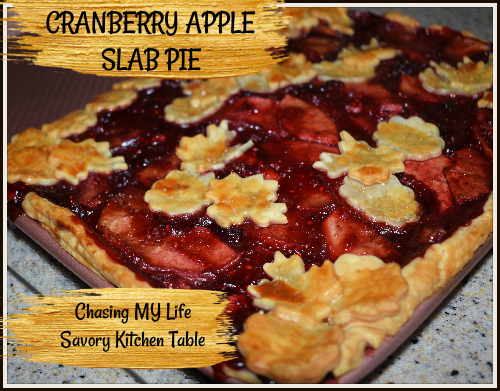 CRANRASPBERRY APPLE SLAB PIE
DOUGH (ingredients for single crust, but you'll need 2!!)
2 1/2 cups AP flour
3 tablespoons sugar
1/2 teaspoon salt
1/2 cup COLD butter
1/2 cup COLD crisco stick
1 LARGE egg yolk
1/4 cup COLD vodka**
Whisk together the flour, sugar and salt.

Grate the butter and shortening into flour mixture.

Using a pastry cutter make a crumbly mixture.

Whisk egg into vodka.

Gradually add egg mixture into flour mixture, tossing with a fork until dough holds together when pressed, adding more cold vodka or cold water as necessary.

Shape dough into a disk, wrap with saran and refrigerate for an hour.

Repeat the steps above for a second crust.
**NOTE: Vodka while being liquid will also evaporate as it bakes leaving a flakier crust.
FILLING
2 1/4 cups sugar
1/3 cup AP flour
7 Granny Smith apples, cored, peeled and sliced thin (about 8 cups)
3 cups FRESH cranberries
1 tablespoon FRESH orange zest
2 teaspoons FRESH grated nutmeg
2 teaspoons QUALITY cinnamon
6 cups FRESH or frozen raspberries
EGG WASH
Roll out 1st disk of dough between 2 sheets of wax paper 13×18 inches.

Remove top sheet of wax paper.

Turn a 15×10 inch baking sheet upside down on the crust.

Using the wax paper lift carefully inverting crust into pan.

Remove wax paper and press crust onto bottom and up sides of the pan.

Allow to chill while preparing filling.
In a LARGE saute pan whisk together the flour and sugar.

Fold in apples, cranberries, orange zest, nutmeg and cinnamon.

Bring to a SLOW boil over medium high heat.

Reduce heat and simmer uncovered, stirring occasionally, 10-15 minutes until apples are tender and juices are thickened.

Remove from heat and stir in raspberries.

Cool mixture.
Preheat oven to 375°.

Add cooled filling to prepared crust.

On a floured surface roll out the remaining dough disk into a 1/8 inch rectangle.

Cut and decorate as desired into strips or shapes to decorate the top.

Brush with egg wash and sprinkle with granulated sugar.

Bake 45 minutes on the lowest rack until crust is golden brown and filling is bubbly.

Cool on wire rack.
NOTE: You can change up the pie's top crust with fall themed shapes or braids or basket weave. Sprinkle with granulated sugar to add a crunch and glisten to the crust.