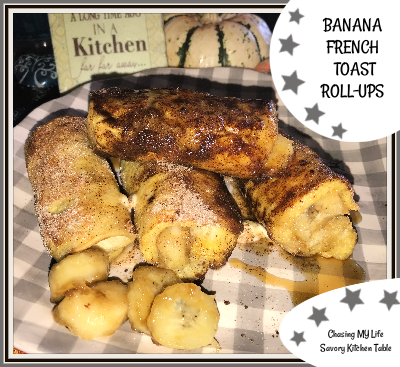 BANANA FRENCH TOAST ROLL UPS Serves 4-5
Deliciously sweet for breakfast or brunch. Crispy on the outside, sweet and creamy on the inside.
10 slices sandwich bread
3 bananas sliced in half and then sliced thinly
3-4 tablespoons butter
1 tablespoon brown sugar
2 LARGE eggs
3 tablespoons milk
1 teaspoon PURE vanilla
1/4 cup sugar
1 teaspoon QUALITY cinnamon
powdered sugar
PURE maple syrup
Heat a non-stick pan over medium heat and melt 1-2 tablespoons of the butter.

Add sliced banana and brown sugar, sautéing until golden and mushy.


In a bowl combine remaining sugar with cinnamon and set aside.

In another bowl beat eggs with the milk and vanilla. Set aside.


Remove the bread crust, and flatten the slices with a rolling pin or a glass.

Spread 1-2 tablespoons of the banana mixture along one edge of the bread.

Brush the other side with the prepared egg wash.


Gently, but tightly roll up the bread around the banana mixture and seal to make a roll. Continue with the remaining bread.


Melt another tablespoon of butter in a pan.

Coat the banana rolls in the egg mixture and place seam side down, cooking 3-4 at a time, turning a quarter of turn each time until all sides are cooked and browned nicely.

Clean the pan slightly with a paper towel and repeat until all rolls are cooked.

Roll cooked roll ups in the cinnamon sugar mixture or dust with powdered sugar immediately.

Serve warm with PURE maple syrup if desired.