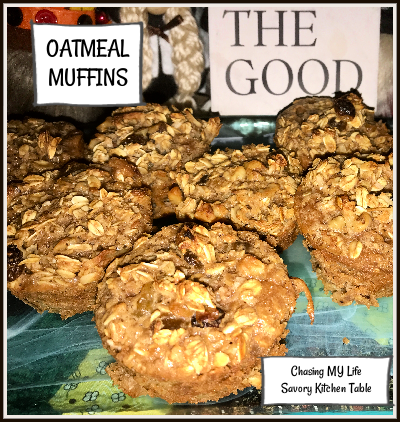 OATMEAL MUFFINS adapted from GET POCKET
Yield: Makes 12 muffin cups
2 LARGE eggs
1 1/2 cups WHOLE milk
1/2 cup unsweetened applesauce or other fruit purée like mashed banana or even canned pumpkin
1/4 cup nut butter or 2 tablespoons melted unsalted butter or coconut oil
1/4 cup PURE maple syrup or QUALITY honey
1/4 cup packed brown sugar
1 teaspoon PURE vanilla extract (see notes)
3 cups old-fashioned oats
1 teaspoon baking powder
1 teaspoon QUALITY ground cinnamon
1/2 teaspoon fine salt
1/2 cup chopped nuts, pumpkin or sunflower seeds, coconut flakes, or chocolate chips (optional)
1/2 cup golden raisins or chopped dried fruit of choice or both 😀 (optional)
Preheat oven 350°.

Coat the wells of a standard 12-well muffin tin very well with cooking spray or line with papers.


Add the eggs, milk, applesauce, nut butter, maple syrup, and vanilla in a medium bowl and whisk until smooth. 


Add the oats, baking powder, cinnamon, and salt and fold with a rubber spatula until combined. 


Fold in fruits, nuts and coconut.

Divide the oatmeal mixture evenly among the muffin wells, filling each one up to the top. 


Bake 25-30 minutes until slightly risen, dry on top, and golden-brown. 


Cool in the pan on a wire rack for 10-15 minutes.

Run a knife around each muffin and remove to a cooling rack to cool completely. 

NOTES:
I make my own vanilla and usually have flavored on hand that adds a cit of flavor. I use Coconut Vanilla or Pineapple Vanilla regularly.

I also use Red Ape Cinnamon which is a high quality and extremely flavorful cinnamon.

The nuts, seeds and/or fruit are optional, but HIGHLY recommended. I usually add both nuts or seeds AND coconut.

I also recommend muffin papers to make clean up easier.

Muffins can be kept an airtight container in the refrigerator for up to 5 days.