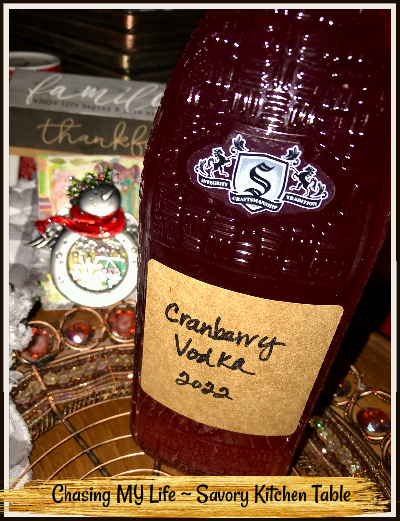 Some of the best recipes of the Christmas season are those that double as gifts, like this homemade cranberry infused vodka.
CRANBERRY VODKA
1 cup FRESH cranberries
1 cup sugar
1/4 cup pineapple juice
1 large strip of orange peel
2 cups QUALITY vodka (Absolut is best)
Place the cranberries, sugar and pineapple juice in a medium saucepan over medium high heat until the sugar is dissolved,

the cranberries pop and the pineapple juice is absorbed. 

Remove from the heat and allow to cool. 

Transfer the mixture into a large mason jar.

Place the orange peel in the mason jar, and pour the vodka over top.

Screw the lid on tightly and set the jar on a counter at room temperature for at least 3 days, and up to a month.

Shake once a day.

Strain into a decorative bottle, tie with festive ribbon and gift with a cocktail recipe in which to use it.