BEFORE I get to my normal more solemn stories and inspirations I wanted to share this story that made me laugh and then laugh some more! I found this on facebook so don't know where it actually originated.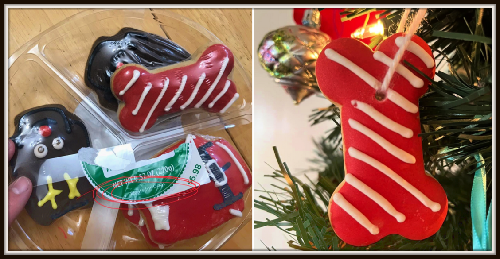 My husband added these "cookies" to his Walmart order last week, to meet the minimum amount for free shipping. If he'd clicked on them for more info before clicking "Add to Cart," he might have noticed the very tiny letters that said, "real USA chicken as the #1 ingredient" and questioned his purchase. But, as he did not do that, they ended up on our front porch, along with a pack of Oreos. This was a pleasant surprise to my kids, who wasted no time digging in. I opened the package for them, which I might not have done if I'd noticed the tiny words on the label that read, "treats for dogs." Or if I'd noticed that some of them were shaped like a dog bone. Or if I'd sniffed them after cutting off the shrink-wrap.
But, as they looked like cookies, said "Christmas cookie biscuits" on the label, and arrived with Oreos, in no part of my mind was I thinking that maybe I should verify that they were for human consumption.
So strong was my assumption that they were actual cookies, that I thought nothing of it when my 11-year-old daughter complained that they tasted bad. Store-bought sugar cookies are always gross, which is why I wasn't tempted to eat one. I shrugged and said, "Try microwaving it for 10 seconds, they're probably frozen from being outside." She did so, but it didn't help. She told me they tasted the way she imagined dog food would taste. STILL no alarm bells in my mind. Meanwhile, my 14-year-old son ate all of his cookie with no complaint. One of my neighbor's boys even ate one later that evening, again with no complaint!
The next day, my 6-year-old son, who hadn't had one yet, joked that he was going to have a dog treat (referring to the cookies). I asked why he said that, and he said because they were shaped like bones. Wait… what?! I grabbed the package to inspect it, and sure enough. They were dog treats! I fed my kids DOG TREATS!! I FED MY NEIGHBOR'S KID DOG TREATS!!!!!

Though shocked and somewhat horrified, I literally fell on the floor dying of laughter, especially when my oldest said, "I thought they were good!"
After confessing to my neighbor that I'd fed her son a dog treat (she also thought it was hilarious, thankfully), I gave them to a much more suitable recipient: her German Shepherd.
However, I did make one of them into an ornament for our tree. Because that is a Christmas memory that deserves to be preserved.
INSPIRATIONS
FAVORITE STORIES
This is such a beautiful story that makes you understand that things truly do happen for a reason. Don't forget to grab the tissue box.
The brand new pastor and his wife, newly assigned to their first ministry, to reopen a church in suburban Brooklyn, arrived in early October excited about their opportunities. When they saw their church, it was very run down and needed much work. They set a goal to have everything done in time to have their first service on Christmas Eve.
They worked hard, repairing pews, plastering walls, painting, etc… and on December 18th they were ahead of schedule and just about finished.
On December 19th a terrible tempest – a driving rainstorm hit the area and lasted for two days.
On the 21st, the pastor went over to the church. His heart sank when he saw that the roof had leaked, causing a large area of plaster about 20 feet by 8 feet to fall off the front wall of the sanctuary just behind the pulpit, beginning about head high.
The pastor cleaned up the mess on the floor, and not knowing what else to do but postpone the Christmas Eve service, headed home. On the way he noticed that a local business was having a flea market type sale for charity so he stopped in. One of the items was a beautiful, handmade, ivory colored, crocheted tablecloth with exquisite work, fine colors and a Cross embroidered right in the center. It was just the right size to cover up the hole in the front wall. He bought it and headed back to the church.
By this time it had started to snow. An older woman running from the opposite direction was trying to catch the bus. She missed it. The pastor invited her to wait in the warm church for the next bus 45 minutes later. She sat in a pew and paid no attention to the pastor while he got a ladder, hangers, etc… to put up the tablecloth as a wall tapestry. The pastor could hardly believe how beautiful it looked and it covered up the entire problem area.
Then he noticed the woman walking down the center aisle. Her face was like a sheet.. 'Pastor,' she asked, 'where did you get that tablecloth?' The pastor explained. The woman asked him to check the lower right corner to see if the initials, EBG were crocheted into it there. They were. These were the initials of the woman, and she had made this tablecloth 35 years before, in Austria.
The woman could hardly believe it as the pastor told how he had just gotten the Tablecloth. The woman explained that before the war she and her husband were well-to-do people in Austria. When the Nazis came, she was forced to leave. Her husband was going to follow her the next week. He was captured, sent to prison and she never saw her husband or her home again.
The pastor wanted to give her the tablecloth, but she made the pastor keep it for the church. The pastor insisted on driving her home, that was the least he could do. She lived on the other side of Staten Island and was only in Brooklyn for the day for a house cleaning job.
What a wonderful service they had on Christmas Eve The church was almost full. The music and the spirit were great. At the end of the service, the pastor and his wife greeted everyone at the door and many said that they would return. One older man, whom the pastor recognized from the neighborhood continued to sit in one of the pews and stare, and the pastor wondered why he wasn't leaving.
The man asked him where he got the Tablecloth on the front wall because it was identical to one that his wife had made years ago when they lived in Austria before the war and how could there be two tablecloths so much alike.
He told the pastor how the Nazis came, how he forced his wife to flee for her safety and he was supposed to follow her, but he was arrested and put in a prison. He never saw his wife or his home again all the 35 years in between.
The pastor asked him if he would allow him to take him for a little ride. They drove to Staten Island and to the same house where the pastor had taken the woman three days earlier.
He helped the man climb the three flights of stairs to the woman's apartment, knocked on the door and he saw the greatest Christmas reunion he could ever imagine.
This true Story was submitted by Pastor Rob Reid.
~~~~~~~~~~~~~~~~~~~~~~~~~~~~~~~~~~~~~~~~~~~~~~~~
Or this story I found years ago over at Heather's blog Family Forever, now a closed blog, but I kept it to remind me to remember this for the future.  I think next year that many of my gifts will be given in the same manner as my family really doesn't 'need' anything, but so many others do. Don't forget your tissue box as you read this story.
THE SIMPLE WHITE ENVELOPE
It's just a small white envelope stuck among the branches of our Christmas tree. No name, no identification, no inscription. It has peeked through the branches of our tree for the past 10 years or so.
It all began because my husband Mike hated Christmas –oh, not the true meaning of Christmas, but the commercial aspects of it — the overspending, the frantic running around at the last minute to get a tie for Uncle Harry and the dusting powder for Grandma — the gifts given in desperation because you couldn't think of anything else.
Knowing he felt this way, I decided one year to bypass the usual shirts, sweaters, ties, and so forth.. I reached for something special just for Mike. The inspiration came in an unusual way.. Our son Kevin, who was 12 that year, was wrestling at the junior level at the school he attended.
Shortly before Christmas, there was a non-league match against a team sponsored by an inner-city church.
These youngsters, dressed in sneakers so ragged that shoestrings seemed to be the only thing holding them together, presented a sharp contrast to our boys in their spiffy blue and gold uniforms and sparkling new wrestling shoes. As the match began, I was alarmed to see that the other team was wrestling without headgear, a kind of light helmet designed to protect a wrestler's ears. It was a luxury the ragtag team obviously could not afford.
Well, we ended up walloping them. We took every weight class. And as each of their boys got up from the mat, he swaggered around in his tatters with false bravado, a kind of street pride that couldn't acknowledge defeat.
Mike, seated beside me, shook his head sadly, 'I wish just one of them could have won,' he said. 'They have a lot of potential, but losing like this could take the heart right out of them.' Mike loved kids — all kids — and he knew them, having coached little league football, baseball, and lacrosse.
That's when the idea for his present came. That afternoon, I went to a local sporting goods store and bought an assortment of wrestling headgear and shoes and sent them anonymously to the inner-city church. On Christmas Eve, I placed the envelope on the tree, the note inside telling Mike what I had done and that this was his gift from me. His smile was the brightest thing about Christmas that year and in succeeding years. For each Christmas, I followed the tradition –one year sending a group of mentally handicapped youngsters to a hockey game, another year a check to a pair of elderly brothers whose home had burned to the ground the week before Christmas, and on and on. The envelope became the highlight of our Christmas. It was always the last thing opened on Christmas morning, and our children, ignoring their new toys, would stand with wide-eyed anticipation as their dad lifted the envelope from the tree to reveal its contents.
As the children grew, the toys gave way to more practical presents, but the envelope never lost its allure. The story doesn't end there. You see, we lost Mike last year due to cancer. When Christmas rolled around, I was still so wrapped in grief that I barely got the tree up. But Christmas Eve found me placing an envelope on the tree, and in the morning it was joined by three more. Each of our children, unbeknown to the others, had placed an envelope on the tree for their dad. The tradition has grown and someday will expand even further with our grandchildren standing around the tree with wide-eyed anticipation watching as their fathers take down the envelope. Mike's giving spirit, like the Christmas spirit, will always be with us.
May we all remember Christ, who is the reason for the season, and the true Christmas spirit this year and always.