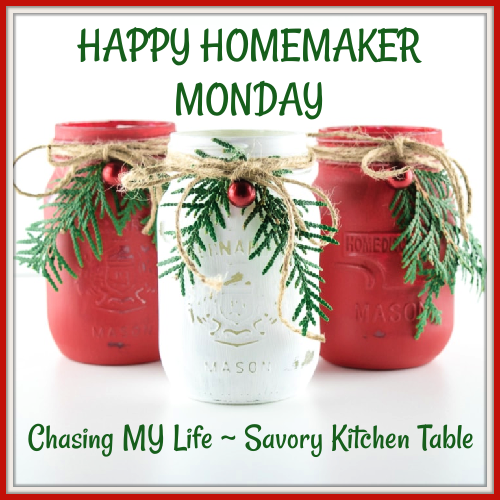 Be sure to join us for Happy Homemaker Monday and link up with our host, Sandra at Diary of a Stay at Home Mom


This will be pretty quick this morning as we're leaving this morning for our Christmas trip to the coast. There is a small craft advisory and wind predicted at the coast as well as a 10 degree temperature drop so I've packed accordingly. I even packed an umbrella in case it does rain. Weather around here can change at the drop of a hat 😀

We almost weren't going to be able to go. The vacation rental we rented and prepaid for last month canceled on us. 🙁 Fortunately, the management company is really good though. 🙂 They found us another rental, still on the water, but actually bigger and better AND they covered the price difference! So, we're really excited about these couple days away.



One of the reasons to go to the coast for a couple days and have reservations to see Shore Acres. It's a wonderful light display that has been closed down since COVID. We went the Christmas before COVID and it was great, but POURING down rain. So, I'm REALLY looking forward to this year. It's supposed to be REALLY cold, but at least the rain/snow is supposed to hold off until after we return home. I'll post pictures later this week.

Doing Happy Homemaker Monday, EVERY MONDAY, loyally for all these years and so extensively helps keep me on track of my daily life as it summarizes the past week and lays out a fairly concise plan for the current week.

THIS WEEK'S TO DO LIST, PROJECTS & APPOINTMENTS


LAUNDRY & CLEANING

After I get back on Thursday I'll finish cleaning up from all the sorting I've been doing.



GROCERIES & ERRANDS

Thursday I have a couple appointments in town and will get caught up then,



RECIPE RESEARCH & MENU PLANNING

Thinking of making a HUGE return to the more basic recipes in the coming new year.

WHAT'S ON THE DVR/TV


NETFLIX

We finished the first season of Wednesday and found it really fun. We are going to finish NCIS next – we're at season 16

CABLE

With most shows in winter hiatus I'm catching up on Christmas movies and cooking shows.




A favorite fun author I read gave a us a fun little read for Christmas if we downloaded her new app which will make getting her books easier for all. I'm going to start it for our little trip.

| | | | | | | | |
| --- | --- | --- | --- | --- | --- | --- | --- |
| | | | | | | | |
| |  OUT OF TOWN |  OUT OF TOWN | OUT OF TOWN | CRISPY PORK MEDALLIONS with APPLE HORSERADISH SAUCE & BROCCOLI HASH |  SALISBURY STEAK POTATO SKILLET |  APPLE BALSAMIC CHICKEN, SOUTHERN CORNBREAD & BUTTERED CARROTS | WHITE BEAN SOUP & CHEDDAR BISCUITS |
| | | | | | | | |
One of favorite places is this 124 year old tavern.The exposed brick walls inside and out are part of the charm that makes this old building so unique.

We've been coming here for the past 10 years and through 4 owners. The BEST thing is that through all those owners, not one of them changed the menu! They have THE BEST sandwiches and all the recipes are still made the same way despite the change in ownership over the years.
And I took a Christmassy Highland Cow painting class yesterday. I'll do the fine touches later this week as I ran out of time.