This is the perfect "date night" recipe for 2. Thin pork chops smothered with a creamy sauce and topped with crispy fried onions are fork tender and simply addicting. Serve with rice pilaf of creamy mashed potatoes.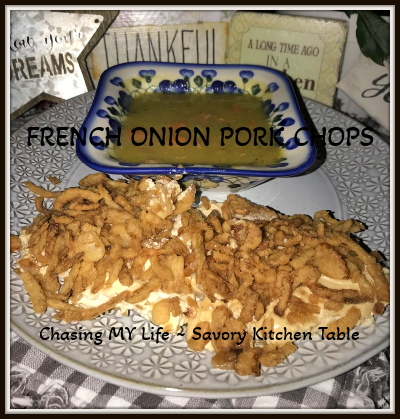 FRENCH ONION PORK CHOPS serves 2
4 boneless pork chops, thin cut
3/4 cup sour cream
1/2 package Lipton French Onion dip mix
1/2 cup French's Crispy Fried Onions
Preheat the oven to 350°. 

Lay the pork chops on the bottom of an 8×8 baking dish, touching but not overlapping. 

Combine the sour cream and onion dip mix to create french onion dip.

Spread dip evenly over the pork chops covering the pork chops entirely.

Sprinkle crispy fried onions over the top in an even layer. 


Cover the dish with foil and bake for 30-45 minutes until the meat is cooked through.