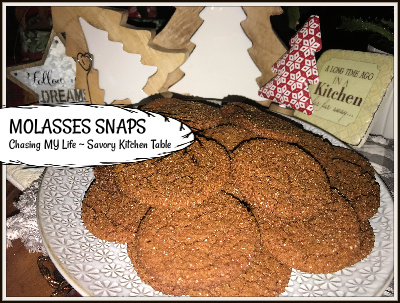 I found this recipe in one of the old antique recipe boxes I've collected. They had labeled it Molasses Cookies, but after I made them changing the name to "SNAPS" worked better because they were so crispy. I added extra ginger and cloves to make them spicier. When these are baking all you can think of is gingerbread houses and smile.
MOLASSES SNAPS
3/4 cup Crisco
1 cup extra fine sugar
1 LARGE egg
2 cups flour
2 1/2-3 teaspoons QUALITY cinnamon
1 tablespoon ground ginger
1 1/2-2 teaspoons ground cloves
1 1/2 teaspoons baking soda
2 teaspoons warm water
1/3 cup molasses
2-3 teaspoons FRESH grated ginger
3/4 cup sanding sugar
Cream together the Crisco and sugar until fluffy.

Add egg, scraping down bowl and blending well.

Sift together the flour, cinnamon, ginger and ground cloves in a separate bowl.

Set aside.

Dissolve baking soda in warm water.

Add baking soda mixture to shortening mixture, blending well.

Alternately add the flour mixture, molasses and FRESH grated ginger.

Cover with saran and chill 2 hours.

Preheat oven to 350°.

Add small shallow bowl

Roll 1 tablespoon at a time into balls.

Roll each balls in the sanding sugar and place on greased baking sheets 2 inches apart.

Bake 8-10 minutes until dry around edges.

Let cool on baking sheet until set before transferring to cooling rack.

Store in airtight container at room temperature – which makes them a GREAT cookie jar cookie.
NOTE: Be sure to roll into tight balls of dough. They will cook perfectly round and look professionally done 😀