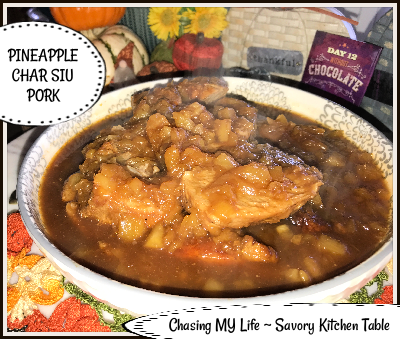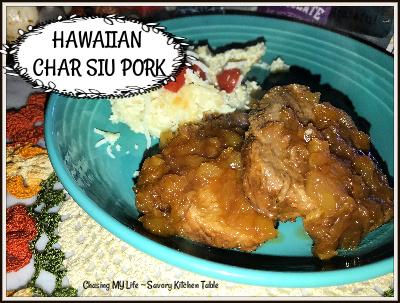 SLOW COOKED HAWAIIAN INFLUNECED CHAR SIU PORK 8 servings
1/2 cup QUALITY honey
1/2 cup hoisin sauce
1/4 cup Bragg's liquid aminos
1/4 cup Jalapeno ketchup
4 garlic cloves, minced
8 ounce can crushed pineapple
4 teaspoons FRESH minced gingerroot
1 teaspoon Chinese five-spice powder
3-4 pound boneless pork shoulder butt roast
1/2 cup homemade chicken broth
Fresh cilantro leaves (optional)

Combine the first 8 ingredients and pour into a LARGE shallow dish.

Cut roast in half; add to dish and turn to coat.

Cover and refrigerate overnight.

Transfer pork and marinade to a 6-qt. slow cooker.

Add chicken broth.

Cook on low 8 hours.

Remove pork and cool slightly.

Shred meat using 2 forks.

Skim fat from cooking juices.

Return pork to slow cooker and heat through in juices.

Top pork with fresh cilantro if desired.
NOTES: Unpeeled gingerroot can be stored in a zip-top bag in your freezer. When you need some, simply grate the frozen ginger and pop it back in the freezer. No more shriveled ginger in the bottom of your produce drawer.