When I was a kid we went to The Smoke House restaurant in Toluca Lake, California for all the special celebration occasions – graduations, Easter, birthdays, anniversaries for their Prime Rib. As a young adult in college my friends and I would go for the bands and the bar. BUT, always we went for the garlic bread! It was THE most unbelievable garlic bread. To this day it makes my mouth water just thinking about it. I've been experimenting for years with a copycat recipe. I have finally perfected it (at least according to my memory of it since we have long since moved away) and then my brother sends me a link order it directly from them.
It had this distinctive neon orange color (which in hindsight probably wasn't all that good for us). I used to be able to buy the cheese powder in a loose package at a mom and pop grocery store years later in Michigan, but then we moved yet again. The closet I've come to finding it recently is ordering it from NUTS.com
I now prefer the non-orange powder from King Arthur that is a sharp Vermont cheddar so there is a healthier alternative 🙂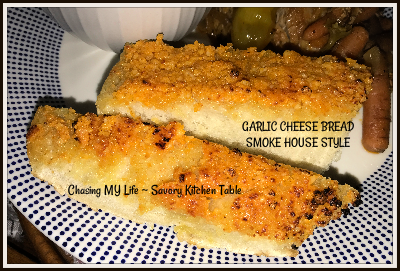 GARLIC CHEESE BREAD
1 Loaf French Sourdough bread
1/2 cup unsalted butter
3 cloves garlic, FINELY minced
1/4 cup Cheese Powder (your choice of color)
1 teaspoon paprika
1/3 cup FINELY grated Parmesan cheese
Preheat oven to 350°.

In a small saucepan, slowly melt butter with minced garlic.

Once melted, remove from heat and rest several hours to infuse the garlic into the butter.

Slice bread in half lengthwise.

Brush all the garlic butter over both halves of bread.

Mix together the Parmesan cheese, paprika and cheese powder.

Sprinkle all over both halves of bread.

Bake 8 minutes.

Increase heat to broil.

Broil 30 seconds at a time until you get your desired doneness.

Watch it closely to prevent burning!

ENJOY!