January was NATIONAL SOUP MONTH so what better time for comfort food like this warm and comforting super creamy corn and potato chowder that includes sweet Italian sausage to oomph the flavor. This sausage and corn chowder is the perfect comfort food year round, but especially in the winter. In the summer use fresh corn and in the winter, frozen corn works well!
Prep Time: 15 minutes Cook Time: 35 minutes Total Time: 50 minutes Servings: 6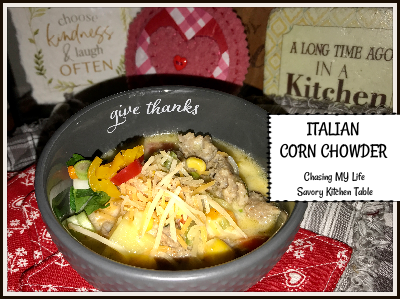 ITALIAN CORN CHOWDER adapted from CLOSET COOKING

1 pound Sweet Italian sausage, casings removed
4 tablespoons butter
1 cup sweet Vidalia onion, diced
1 cup diced carrots
1 cup diced celery
1 cup red pepper, diced
3-4 cloves garlic, minced
1 pinch red pepper flakes
3-4 tablespoons WONDRA flour
4 cups homemade chicken broth
2 LARGE potatoes, peeled and cubed
4 cups corn (fresh, frozen, or canned depending on season)
1 teaspoon FRESH chopped oregano
1 teaspoon FRESH thyme leaves
FRESH ground salt and pepper to taste
1 cup heavy cream
1/4 cup grated Parmesan cheese
2 tablespoons FRESH chopped Italian flat leaf parsley
2 green onions, thinly sliced
Cook the sausage in a large skillet over medium-high heat, breaking it into small pieces, until cooked through. Set aside.

Add the butter to the pan and let it melt.

Add the onion, carrots, celery and peppers cooking 7-10 minutes until tender.

Add the garlic and red pepper flakes, stirring well.

Sprinkle with the flour and cook 2-3 minutes until golden.

Add the broth, sausage, potatoes, corn, oregano, and thyme.

Bring to a boil, reduce the heat and simmer until the potatoes are tender, about 15 minutes.

Turn off the flame.

Lightly whisk together the heavy cream and Parmesan until the cheese melts in.

Adjust seasoning to taste with salt and pepper to taste.

Mix in the parsley and green onions.