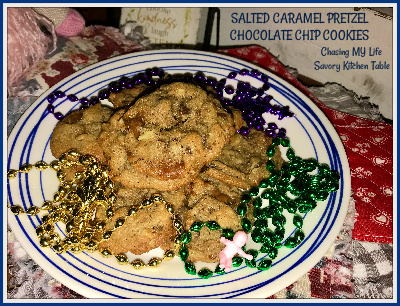 SALTED CARAMEL PRETZEL CHOCOLATE CHIP COOKIES yields 3 dozen cookies
Adapted from Like Mother Like Daughter
Sweet and salty, loaded with gooey caramel, chocolate chips and pretzels to make THE PERFECT cookie!
1 cup UNSALTED butter, COLD
1 cup PACKED dark brown sugar
1/2 cup sugar
2 LARGE eggs
1 teaspoon PURE vanilla extract
2 1/2 cups flour
1 tablespoon cornstarch
1 teaspoon baking soda
1 teaspoon baking powder
1/2 teaspoon salt
1 1/2 cups milk chocolate chips
1 1/2 cups chopped pretzels
1/2 bag Kraft caramel balls (2 balls per cookie)
1 tablespoon flaky sea salt
Preheat the oven to 400°.

Line cookie sheet with parchment or silpat.

Cut your butter into slices.

Add butter slices to a large mixing bowl with paddle attachment, beating until it starts to smooth and get creamy. 

Add in sugars and beat for 1-2 minutes more until smooth and well combined.

Add in the eggs and vanilla extract beating JUST until incorporated.
Sift together the flour, cornstarch, baking soda, baking powder, and salt. 

Add the flour mixture, beating on low speed until the wet and dry ingredients are combined.


Fold the chocolate chips and pretzel pieces into the dough.

Scoop dough by the tablespoon.

Press the dough flat and place 2 caramel balls in the middle.

Roll the cookie dough around the caramel.


Bake 8-12 minutes, or until the cookie top and bottom are golden.

Sprinkle the tops of the cookies immediately with coarse sea salt.


Allow the cookies to rest on the pan for about 5 minutes before transferring to cooling

rack. 


Store cookies in an airtight container, or ziplock bag for 3 to 4 days.

NOTES: Add 1 tablespoon at a time more of flour if dough is too wet and sticky.