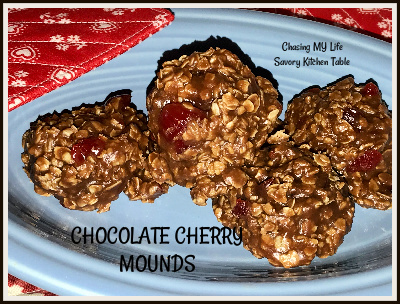 CHOCOLATE CHERRY MOUNDS
2 cups sugar
1/2 cup butter, cubed
6 tablespoons WHOLE milk
3 tablespoons baking cocoa
1 cup JIF peanut butter
1/2 teaspoon PURE vanilla extract
1/4 teaspoon PURE almond extract
3 cups quick cooking oats
10 ounce jar maraschino cherries, drained WELL and chopped FINE
In a large mixing bowl add the quick cooking oats and cherry pieces. Set aside.

In a large saucepan, whisk together the sugar, butter, milk and baking cocoa.

Over a medium heat melt butter and bring mixture to a boil,cooking and stirring continuously for 3 minutes.

Remove from heat.

Stir in peanut butter and extracts, stirring until combined well.

Pour mixture over oat mixture and mix until oatmeal is well coated.

Drop the mixture tablespoons onto wax paper lined cookie sheets.

Chill until set.

Store in airtight containers.