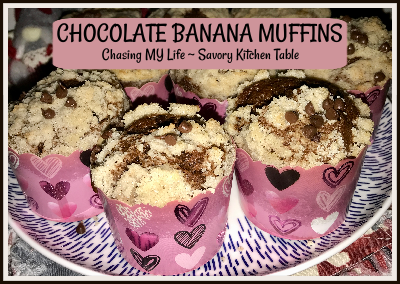 CHOCOLATE BANANA MUFFINS
1 1/2 cups flour
1 cup sugar
1/4 cup baking cocoa
1 teaspoon baking soda
1/4 teaspoon baking powder
1/2 teaspoon salt
3 medium bananas, mashed (1 1/3 cups)
1/3 cup avocado oil
1 teaspoon PURE vanilla extract
1 LARGE egg
1 cup mini chocolate chips
Preheat oven to 350°.

Grease or line muffin tin with papers.

Whisk together the flour, sugar, cocoa, baking soda, baking powder and salt in a LARGE bowl.

In a separate bowl whisk together the mashed bananas, oil, vanilla and egg until well blended.

Whisk the wet ingredients into the dry ingredients

JUST

until combined.

Fold in chocolate chips.

Fill muffins 3/4 full.
STREUSEL TOPPING
1/2 cup sugar
1/3 cup flour
1/2 teaspoon QUALITY cinnamon
1/4 cup COLD butter, cubed
Whisk together the sugar, flour and cinnamon.

Cut in butter pieces until crumbly.

Top filled muffins with streusel.

Bake 20-25 minutes until toothpick comes out clean and centers are cooked.

Cool 5-10 minutes on wire rack.

Best served warm.