Every now and then SIMPLE is BEST! 😀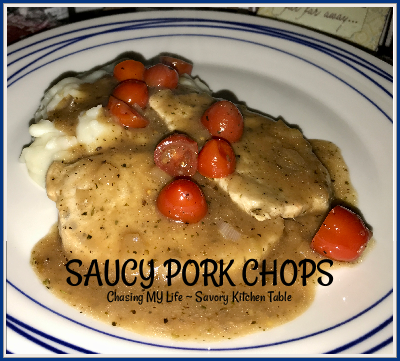 SAUCY PORK CHOPS
4-6 boneless pork chops
2 tablespoons butter
1 LARGE shallot, chopped
1 cup halved grape tomatoes
1 cup homemade chicken OR beef broth
1 teaspoon Italian seasoning
FRESH ground sea salt and black pepper
2 tablespoons WONDRA flour
1/2 cup water
Melt butter in large skillet over medium-high heat.

Quickly sear pork chops on both sides, remove from pan and keep warm.

Add onions and saute a few minutes until tender.

Add broth, tomatoes, Italian seasoning, FRESH ground sea salt and black pepper, to taste. Bring to a boil.

Reduce heat to simmer, return pork chops to pan and simmer 5-7 minutes until pork chops are cooked through (145°).

Whisk together the water and flour until smooth.

Plate pork chops, keeping warm.

Whisk flour mixture in sauce until smooth and heated through.

Serve over mashed potatoes or rice.