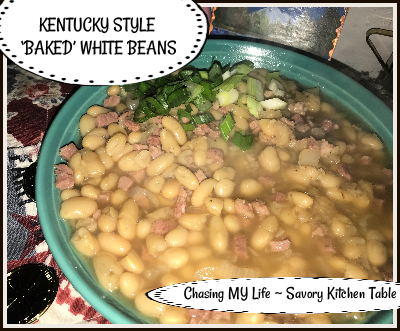 KENTUCKY STYLE 'BAKED' WHITE BEANS adapted from COOK'S COUNTRY
1/2 pound country ham steak, roughly chopped small or shredded
1 tablespoon butter or avocado oil
1 LARGE shallot, chopped
2-3 garlic cloves, minced
3 cans (15 ounce) cannellini beans, drained and rinsed
2 1/2 cups water
2 1/2 cups homemade chicken broth
2 tablespoons white wine vinegar
1/2-3/4 pound ham hock (optional)
1/4 teaspoon liquid smoke (I like mesquite, but hickory is also good)
FRESH ground sea salt and black pepper
Heat butter over medium heat in a dutch oven until melted.

Add shallots, cooking until soft and beginning to brown.

Add garlic, sautéing a minute more until fragrant.

Add beans, water, broth, liquid smoke, vinegar, ham hock and ham pieces and bring to a boil over high heat.

Reduce heat to medium low and simmer 30-45 minutes, stirring occasionally until beans are tender.

Remove ham hock if using.

Season to taste and serve.