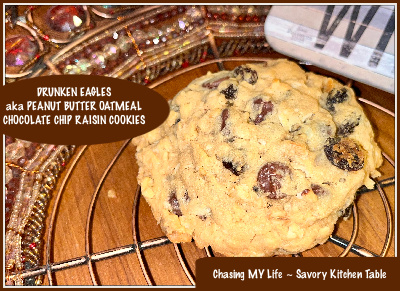 DRUNKEN EAGLES aka PEANUT BUTTER OATMEAL CHOCOLATE CHIP RAISIN COOKIES
1 cup butter, softened
3/4 cup sugar
1/2 cup brown sugar
2 LARGE eggs
1 cup JIF or SKIPPY creamy peanut butter
6 teaspoons PURE vanilla
1 1/2 cups flour
2 teaspoons baking powder
1 teaspoon salt
2 cups old fashioned oats
2 cups QUALITY semi-sweet chocolate chips
1/4 cup spiced rum
1 cup golden raisins
Up to 48 hours before you plan to make the cookies pour rum over raisins, cover and let raisins absorb the rum.
Preheat oven to 350°.

Drain any remaining rum off raisins.

Cream together the butter and both sugars until smooth.

Add eggs, peanut butter and vanilla, mixing again until smooth.

Sift in flour, baking powder and salt.

Mix in old fashioned oats and chocolate chips until well blended.

Fold in raisins.

Using a large scoop arrange cookies on cookie sheets. (Cookies will not flatten very much.)

Bake 11-15 minutes until edges are golden.

Allow cookies to rest 5 minutes on the baking sheet before transferring to a cooling rack for 10-15 minutes.
NOTE: I make a gluten-free version substituting almond flour 1:1 and gluten-free oats 1:1 that is actually tastier to me 😀