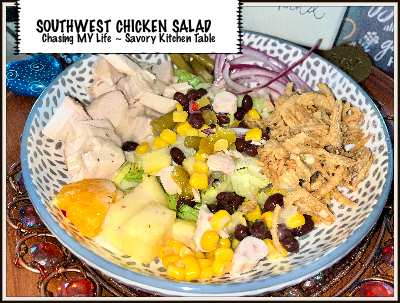 SOUTHWEST CHICKEN SALAD
1/3-1/2 cup FINELY chopped red onion
1/4 cup drained chopped green chiles
1/4 cup coleslaw dressing (bottled or homemade – you choose)
Juice of 1 lime
2 boneless, skinless chicken breasts
1 can Green Giant Mexicorn niblets, drained WELL
3 cups chopped greens (I like a mixture of iceberg and romaine)
2 small red and/or orange mini peppers, chopped
1 cup drained and rinsed black beans
1/2 cup shredded cheddar cheese
1/2 cup French's crispy onions
Whisk together the coleslaw dressing and lime juice.

Fold in the red onion and green chiles, shake well and refrigerate until ready to serve.

Grill chicken until cooked through. Let rest 5 minutes and then slice into desired size pieces.

Wash and drain lettuce.

In a large bowl toss together the lettuce greens, peppers, black beans, corn and cheese.

Arrange chicken pieces on top.

Drizzle with dressing and top with crispy onions.