Antipasto salad at its best – as a hand held snack sandwich. Perfect for tailgating, pot lucks, baby showers, game nights, family get togethers…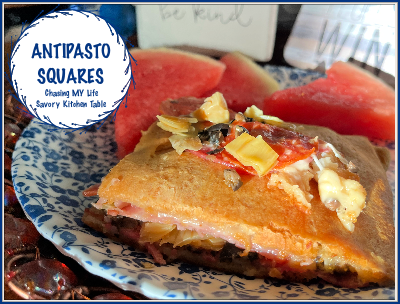 ANTIPASTO SQUARES
non-stick cooking spray
2 (8 ounce) tubes crescent dough (non-perforated if you can find them)
1/2 pound thin sliced tavern ham
1/4 pound sliced pepperoni
1/4 pound slice salami
1/2 pound sliced provolone
1/4 pound sliced mozzarella
1 cup WELL drained sliced pepperoncinis and/or banana peppers
1/2 cup WELL drained and chopped marinated artichokes
4 ounce can WELL drained sliced olives
2 tablespoons avocado oil
1/4 cup + 2 tablespoons FRESH grated Parmesan
1 teaspoon FRESH chopped oregano
1 tablespoon FRESH chopped basil
Preheat oven to 350°.

Grease a 9×13 baking sheet with non-stick cooking spray.

Roll out one can of crescents on prepared baking sheet, gently stretching into a rectangle.

Layer in the following order ~ pepperoni, provolone, salami, mozzarella, ham, olives, artichokes and pepperoncinis.

Sprinkle with half of the FRESH chopped herbs followed by the 2 tablespoons of Parmesan cheese.

Unroll remaining tube of crescent dough and place on top.

Pinch together seams to seal.

Whisk together the oil and remaining herbs.

Brush oil mixture all over top of crescent dough, then sprinkle with Parmesan.

Bake until dough is golden and cooked through, about 35 minutes. (If dough is browning too quickly, cover with foil.)

Let cool at least 15 minutes before slicing into squares.
NOTE: Keep in mind that draining everything exceptionally well and HOW you layer this recipe makes a difference in the outcome. If there is too much moisture the squares can be too soggy.