When I was searching my recipe file (a big old tote full of scraps) I found two other even older scraps of recipes (Chicken with Tarragon Sauce and Baked Tomatoes with Broccoli stuffing) that had been torn from old cookbooklets, one was even handwritten it was so old. They also begged me to make them. I often substitute thyme or flat leaf parsley for the tarragon or mix and match them based on what I have on hand.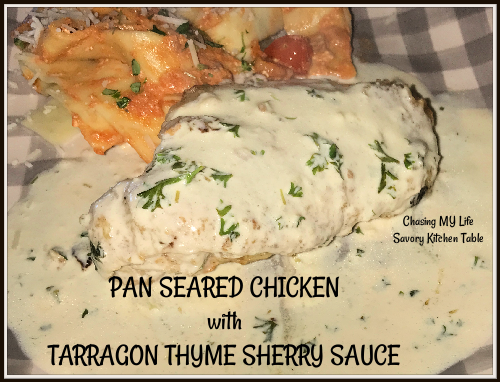 CHICKEN with TARRAGON SAUCE 4 servings
This is comfort food at its finest – maybe serve it with homemade mashed potatoes and sautéed fresh green beans?

4 boneless skinless chicken breast halves (5-6 ounces each)
1/4 cup flour, for dredging
FRESH ground sea salt and black pepper
1 tablespoon butter
1 tablespoon avocado oil
1 shallot, chopped
3/4 cup heavy whipping cream
2 tablespoons minced FRESH tarragon
1 tablespoon sherry vinegar
2 teaspoons lemon juice
Pound chicken breasts with a meat mallet to 1/2 inch thickness.

Sprinkle chicken with 1/2 teaspoon salt and pepper.

In a large skillet, heat butter and oil over medium heat.

Add chicken, searing 3 to 4 minutes on each side or until no longer pink. Remove chicken from pan; keep warm.

Add shallot to same pan, cooking and stirring over medium heat until tender.

Add lemon juice and sherry vinegar.

Add most of the tarragon.

Add cream, stirring to loosen browned bits from pan. Increase heat to medium high, simmering until slightly thickened.




Serve with chicken.

Sprinkle with remaining tarragon as garnish.