These meatballs make a GREAT appetizer, are also GREAT on a sandwich or served over rice or pasta. But the most preferred method is with mashed potatoes so there is spot for the YUMMY gravy!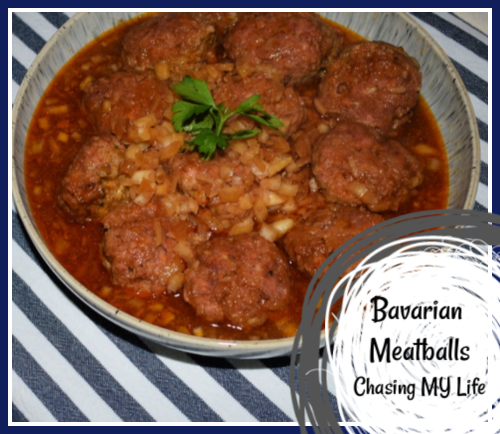 BAVARIAN MEATBALLS ala SLOW COOKER
MEATBALLS
1 pound ground chicken
½ pound ground pork
1 LARGE egg, lightly beaten
½ teaspoon garam masala
2 cloves garlic, minced
½ teaspoon paprika
¼ teaspoon cayenne pepper
FRESH ground sea salt and black pepper
GRAVY
½ cup chopped onion
¼ cup PACKED brown sugar
1 envelope LIPTON onion soup mix
12 ounces beer or ginger ale
2 cups shredded Gruyere cheese (optional – best on sandwiches)
Mix everything together until well blended.
Form into 1 inch meatballs. It will make about 36.
Coat the slow cooker insert with non-stick cooking spray.
Place meatballs in the slow cooker.
Combine the onions, brown sugar, onion soup mix, and beer. Pour over and around meatballs.
Cook on low 3-4 hours until meatballs are cooked through.
Serve over rice, pasta or on hoagies*.
Top with cheese.
NOTE*: 
If serving on hoagies, place split buns on baking sheet, place meatballs on buns and top with cheese. Broil 4-6 inches from heat source for 2-3 minutes until cheese is melted and golden.
If making the "LOAF" mix EVERYTHING (except the cheese) together and add 1 cup Panko crumbs.  Press mixture into a 9×13 baking dish and bake at 350 degrees for 45 minutes.  Top with cheese and return to oven for 5 minutes until cheese is melted.