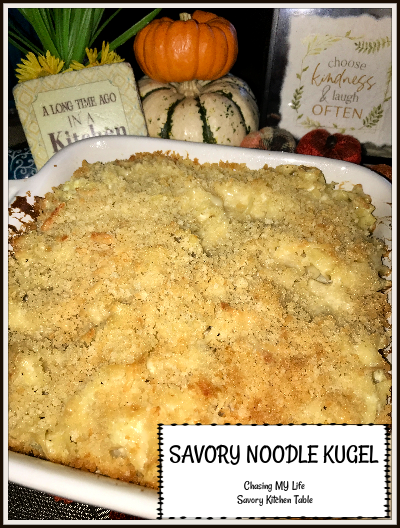 Noodle kugel is a traditional Jewish holiday dish that is USUALLY served sweet. BUT, I needed a side dish and wanted something more flavorful and less than boring the mashed potatoes or rice. I just love the tender goodness of a warm kugel so decided to try making it into a savory side dish. Potato kugel is the traditional savory route, but the noodles really oomph it up a notch with my family.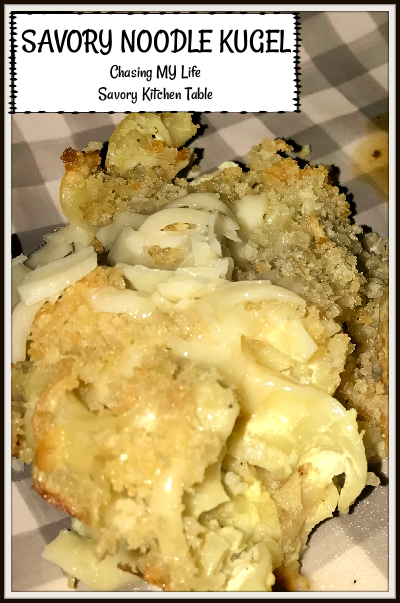 SAVORY NOODLE KUGEL
4 tablespoons unsalted butter, melted, divided, plus more for the pan
8 ounces cooked al dente egg noodles, rinsed and cooled
FRESH ground sea salt and trim-color pepper
1/2 teaspoon sweet paprika
2 LARGE eggs, lightly beaten
1 cup sour cream
1/2 cup SMALL curd cottage cheese
3 tablespoons finely chopped chives
1 cup baby Swiss or Gruyère cheese, grated, divided
1/2 cup plain Panko breadcrumbs
Heat the oven to 350°.
Butter 9×9 or 1½-quart casserole dish.
In a medium bowl, toss the noodles with 3 tablespoons of the butter; season with paprika, salt and pepper.
In another medium bowl, whisk the eggs, sour cream, cottage cheese, chives, and ½ cup of the Gruyère to combine.
Add to the noodles and fold to combine; lightly seasoning to taste with salt and pepper as needed.
In a small bowl, mix the breadcrumbs and the remaining 1 tablespoon of the butter; season to taste with additional salt and pepper.
Arrange noodles into the prepared pan.
Sprinkle the remaining cheese over the noodles.
Top with the breadcrumbs.
Bake for 30 to 40 minutes, until the edges are bubbling, the crumbs are browned, and the center is completely set. If it begins to brown and crisp too much add a loose layer of foil until the last 10-15 minutes.