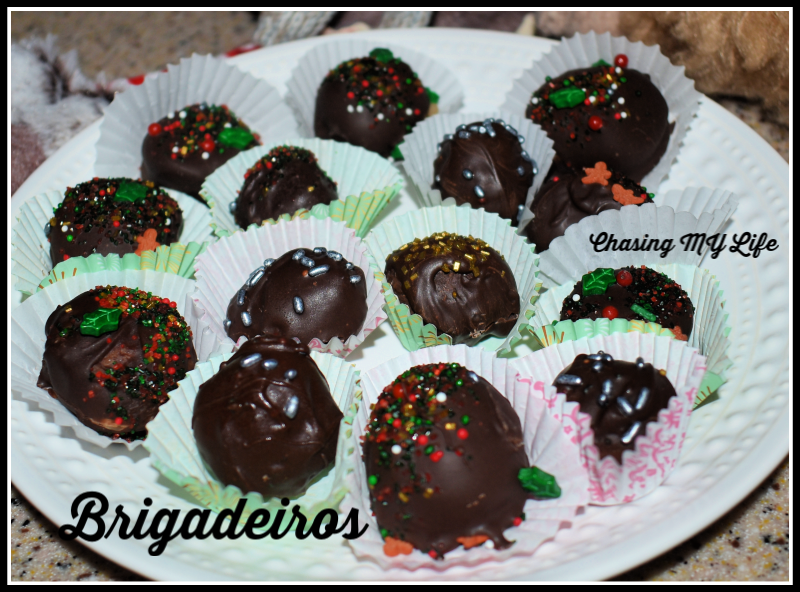 I found this recipe over at Rebecca's blog and was intrigued so I did a little history.
The Brigadeiro is a traditional Brazilian dessert created in the 1940's.  It is made of condensed milk, butter and cocoa powder and then rolled in chocolate sprinkles. While it is uncertain of when and where the recipe was actually created, there is some history that the name originated in 1945 after WWII.  Eduardo Gomes, whose military ran was Brigadier. He was campaigning for president in Brazil and his slogan was "Vote for the Brigadier who is handsome and single!"
This slogan gave him enormous success especially among women. Many of his most devoted voters decided to try and promote his campaign by organizing fundraiser parties to give him more visibility. Instead of traditional merchandising it was decided to sell candy. But, there was a significant problem everywhere – a lack of fresh milk and sugar in this post war era. It was decided to use condensed milk and mix it with butter and chocolate.
This new creation, specifically these candies were come to be known as "The candy of the Brigadeiro" in his honor. While the candy was a success, the candidate was not.  The name was then shortened to BRIGADEIROS in the 1950's.
BRIGADEIROS
1 can Nestle's La Lechera sweetened condensed milk
2 tablespoons butter
4 tablespoons cocoa
Candy Quick, optional
Sprinkles
Put all ingredients in a pan and cook over medium-low heat, stirring constantly until you can see the bottom of the pan between swipes across middle (about 15 to 20 minutes); continue to cook until almost solid (about another 5 minutes).
Pour mixture into buttered plates to cool.
Using buttered hands, pull away pieces of the candy and roll into balls.
Roll each ball in candy sprinkles of choice to complete.
NOTES:
I also coated each one in candy quick to give it a hard shell before decorating.
Rebecca's recipe stated that Nestle's La Lechera sweetened condensed milk was the brand to use for best results, but out of curiosity I tried the La Lechera AND Eagle brand with very little difference in

FLAVOR ONLY

.  Texture wise, Nestle's La Lechera was

DEFINITELY

the best though!
You can also use Nesquik chocolate or strawberry flavored drink mixes, peanut butter powder or espresso powder for different flavors… There really appears to be lots of ways to flavor and decorate Brigadeiros!   For one version I added a couple drops of peppermint extract.  Our favorite version trades 1 1/2 tablespoons of the cocoa powder for peanut butter powder.
This is a really hard category for me.  I LOVE Christmas!  There is nothing about this season I don't like short of maybe crowds of rude people and Black Friday.  Being a military family on a tight budget I've always started shopping early (like in January) to work everything we want to do into our tight budget.
If I had to pick just one tradition though, it would be putting up the tree as a family while eating leftover turkey (from Thanksgiving) sandwiches.  When I was a kid we usually put our tree up the day after Thanksgiving and leave it until Kings Day, the Epiphany on January 6th.  Hubby and I still do that and for that reason we like to go cut our own tree so it's fresh and lasts the entire time.  I use an apple cider/sugar mix that keeps the sap from forming on the cut area and keep the water cool and full.
When I was a kid we did a BIG family get together with a buffet of food and opening our family presents on Christmas Eve.  I just saw a few of my cousins recently and we were reminiscing about some of those holidays and LOL how horrible our wardrobes were back then.
Thankfully, I'm not in the bottom picture because I remember what I was wearing! But I love my brother's plaid pants and Monica's floral blouse. If you don't hear from me for a few days I'm Sure it's because one them found me LOL.Then on Christmas Day we did Christmas morning and "Santa" with just the immediate family and then we would do a BIG turkey with all the trimmings including my dad's stuffing and giblet gravy with all the family as well as extended family, which included crazy Aunt Louise and Uncle Herb. I replicated dad's stuffing recipe a few years ago (Oatnut Sourdough Herb Dressing) and that is now a MUST TRADITION for the Christmas meal no matter what the protein is.
Our newest tradition in the last several years is watching Christmas movies and dreaming about moving to every small town depicted in them, kind of like Stars Hollow from the Gilmore Girls.  We loved that show!
This is a category I have given a lot of thought to.  Christmas is full of tradition and with tradition comes a cyclic nature in how we do things year after year.  Our traditions and practices though stem from our experiences.  As life progresses things change and evolve over time.  All of this is my round about way of saying that in a future Christmas I would like to revert and try an inverted Christmas tree.

I found several places offering background on the upside down tree. One was, ChristmasCarnivals.com which also has many other links for Christmas history to check out too.
"Christmas is associated with many traditions, of which the Christmas Tree is an inherent part. The history of the upside down Christmas Tree has its roots in the 7th century. It is during this period that St Bonafice journeyed from Devonshire, England to Germany to preach the message of God. He engaged himself in religious as well as social work and spent a lot of his time in Thuringia, a town located in Germany itself, which is the birthplace of the industry dealing with Christmas Decorations.
It is believed that St Boniface, while staying in Thuringia, took the help of the triangular fir tree to represent the Holy Trinity made up of God the Father, God the Son and God the Holy Spirit. As a result, the converted people started to [consider] the Fir tree as God's Tree. Then St Bonafice, using this triangular shaped tree tried to introduce to the pagan tribes the paragons of Trinity.
By the 12th century, it became a custom, especially in Europe to hang the Fir trees upside down from the ceilings to symbolize the Holy Trinity. The Upside down Christmas Trees was also considered the symbol of Christianity. However, the real history behind the hanging of the upside down Trees remains vague. Presently the trend of hanging a Christmas Tree has changed, because nowadays the tip of the Christmas Tree is made to point towards Heaven, as many think that an upside down Christmas tree is a sign of contempt."
St. Boniface~Wikipedia
St. Boniface~New Advent
ChristmasCarnivals.com