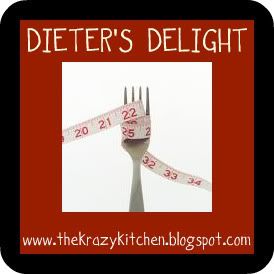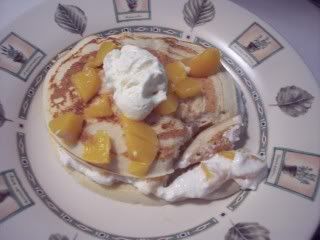 1/2 cup fat free cottage cheese
1 tablespoon skim milk
1 tablespoon sugar or splenda
1/2 cup of canned light peaches
3/4 cup of Heart Healthy Bisquick
1 teaspoon vanilla extract
2 tablespoons fat free whipped cream if desired
Mix cottage cheese, skim milk & Splenda or sugar. I used my Magic Bullet.
Chop 1/2 of the serving of peaches & stir them into the cheese mixture.
Mix Bisquick with water to make it pancake consistency (I'm sorry I didn't measure the water).
Stir in vanilla.
I sprayed my small pan with Pam & put in 1/2 of the pancake mix.
While that is cooking, microwave the cheese & peach mixture for a little bit to just warm it.
Take out the first pancake, top it with the cheese & peach mixture & make the second pancake.
Put the second pancake on top, then top with the remaining chopped peaches & a dollop of Cool Whip Free.
*This is a recipe for one serving, but you can see it would be easy to multiply.
My husband was jealous & my son accused me of cheating on my diet.
If you are on the Nutrisystem plan this counts a complete breakfast, fruit & dairy + 1 free food (Cool Whip)
*this would work really well with some fat free ricotta & a little Splenda instead of the cottage cheese, but I didn't have any ricotta.