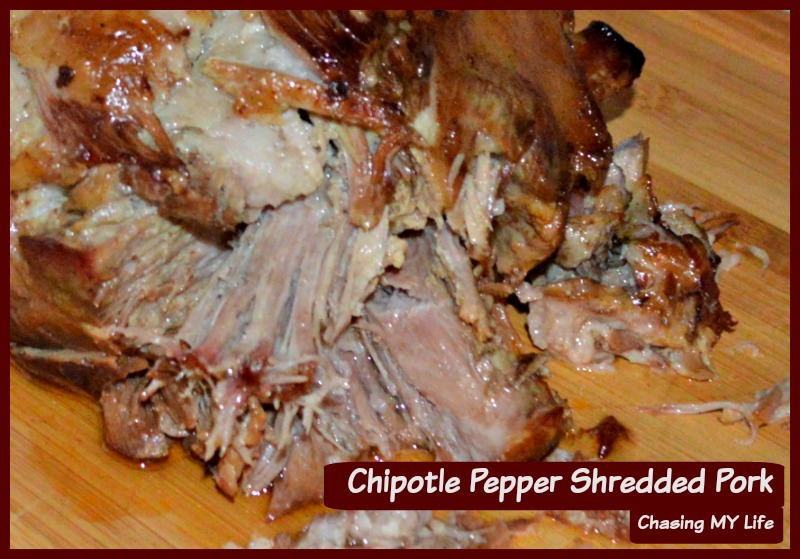 CHIPOTLE DR. PEPPER SHREDDED PORK
Prep Time:  5 Minutes
Difficulty:     REALLY Easy
Cook Time: 6+ Hours
Servings:    18-20 Servings
1 Large Vidalia Onion
5-7 pound Pork Shoulder or Pork Butt
Freshly ground Salt
Freshly Ground Black Pepper
11 ounce Chipotle Peppers In Adobo Sauce
2 cans Dr. Pepper
1/3 cup packed Brown Sugar
1 batch Sauce Recipe below **
Preheat oven to 300˚.
Peel the onion and cut it into wedges. Lay onion wedges in the bottom of a large dutch oven.
Generously salt and pepper the pork roast, then set it on top of the onions in the pan fat side up.
Puree the peppers and the juice.
Strain the peppers to remove the seeds and skins.
Mix together the pureed peppers and  brown sugar.
Pour over top of the roast then pour the  Dr. Pepper over it all.
Cover and place in oven.
Cook for at least six hours, undistrubed.
Check meat; it should be absolutely falling apart (use two forks to test.) If it's not  falling apart, return to the oven for another hour or until it is.
Remove meat from pot and place on a cutting board or other work surface. Use two forks to shred meat, discarding large pieces of fat.
Drain the meat in a colander and discard all but 1 cup of the liquid.
Add warm sauce (recipe below) to meat and coat well. If necessary use the 1 cup of liquid to keep the meat moist and juicy.
Keep warm until ready to serve.
Serve on warm flour tortillas topped with shredded lettuce, diced tomatoes, grated cheese, avocado slices, salsa, and whatever else you'd like.NOTE: You can also refrigerate the meat and liquid separately, then remove hardened fat once it's cold.  Then heat up the liquid on the stove top and return the meat to the liquid to warm up.
Save
Save
**BBQ SAUCE
1/3 cup apple cider vinegar
3/4 cup packed brown sugar
3/4 cup Smucker's apricot pineapple jam
1 tablespoon Bragg's Aminos
3/4 cup Tabasco Jalapeno ketchup
Fresh ground salt and black pepper
In a large sauce pan whisk together all the ingredients and bring to a SLOW boil, stirring frequently.
Reduce heat to as low as possible and simmer while the ribs bake.
Sauce will thicken during this simmering so stir frequently.
**NOTE:  If you prefer, a bottle of your favorite BBQ sauce will work just as well.
Save
Save
Save