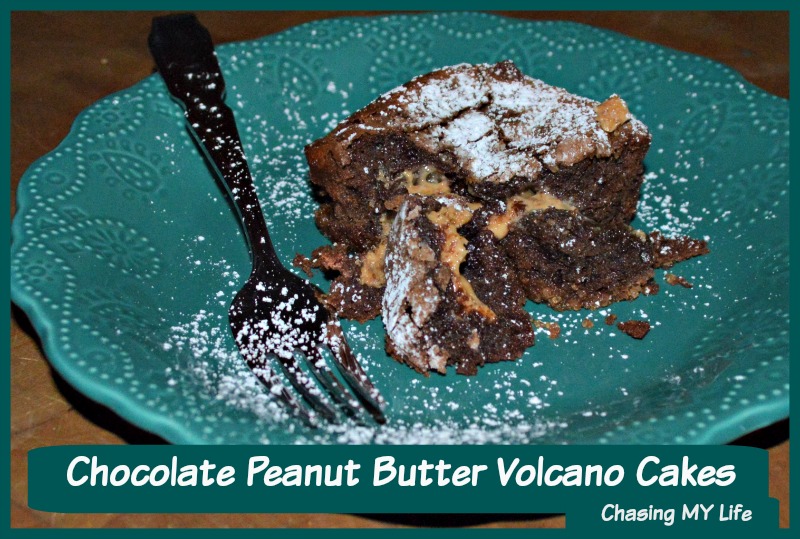 I have made these using Nestle's chocolate and also using QUALITY chocolate.  While the quality chocolate does cost a bit more, you can SERIOUSLY taste the difference. Do yourself a favor and splurge for this decadent dessert. They also work with Nutella instead of peanut butter.
CHOCOLATE PEANUT BUTTER VOLCANO CAKES
14 ounces QUALITY semi-sweet chocolate, broken into pieces
7 tablespoons unsalted butter, cut into pieces
1 cup sugar
4 Large eggs
4 Large egg yolks*
1/2 cup flour
1 heaping cup of peanut butter, chilled
powdered sugar
Preheat oven to 400°.
Butter muffin tin REALLY well and sprinkled with sugar.

**

Using a double boiler melt butter and chocolate pieces together until smooth.  Stir constantly.***
When smooth, turn off the heat, remove from burner and let cool a bit.
In a large mixing bowl whisk together the 4 eggs and 4 egg yolks until well blended.
Add sugar and then flour, whisking until smooth.
Whisk in the cooled chocolate mixture.
Fill each muffin tin halfway.
Add about 1 1/2 tablespoons of the chilled peanut butter to each muffin cup.
Evenly top each muffin cup with remaining chocolate mixture. DO NOT OVERFILL.
Bake 14 minutes or until top center crust bounces back when gently pressed.
Carefully pop cakes out and garnish with powdered sugar.
Serve warm with vanilla ice cream for complete decadence.
*NOTE

: I save the whites for omelettes or to add into the dog's food

**NOTE

: I like to use my mini cheesecake pan that you just push up the bottoms for the individual cakes.  It makes it much easier to get the cakes out without breaking them open.
***HINT: Make sure the water level in the pan is NOT touching the double boiler.  If it does it could scorch your chocolate mixture.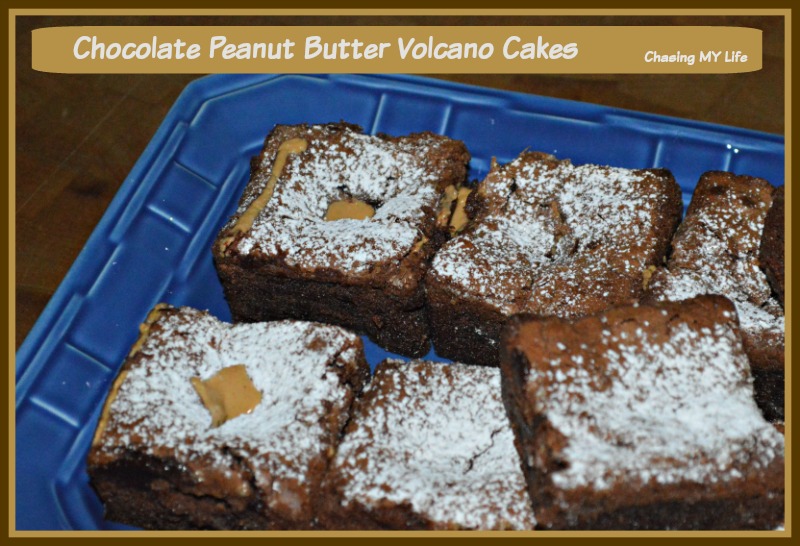 Save
Save