I hope you all had a GREAT week and are taking a much deserved break today for Labor day. We have had a busy week recovering from Hurricane Harvey.  This has been and continues to be chaos even as life tries to go back to normal.  We were blessed to be in an area that received 3 feet of rain and tons of wind, but no serious damage or flooding except for a the few neighbors we were able to help out.  But, that has left us on a "virtual" island not able to go too far in any one direction without running into closed roads and freeways.  They are still releasing waters from the overflowing reservoirs so residential flooding as well as downtown is still a HUGE concern.  Also of concern is a dozen or so flooded toxic waste dumps, mosquito season and raw sewage in the flood waters.
My long awaited testing for my surgery last Friday in the downtown medical center was canceled and has yet to be rescheduled, but I'm hoping to have some answers tomorrow. I know there are other concerns right now, but I am miserable and unable to sleep, eat or function well so am hoping as they reopen they have developed a plan to deal with the week's worth of patients in limbo in a timely and efficient manner.
OUTSIDE MY WINDOW & THE WEATHER OUTSIDE
We are warmer and humid again, but the skies are blue and full of fluffy clouds.
ON THE BREAKFAST PLATE
Protein drink and coffee
AS I LOOK AROUND THE HOUSE
I'm blessed to have a house to complain about being messy!  I need to clean well though. So much time spent indoors while the hurricane/tropical storm raged and away after to help friends and now the holiday weekend that I have neglected normal day to day items, but I'll get those back together as the week moves on.
WEEKLY TO DO LIST & HOUSE PROJECTS
LAUNDRY

… just a couple of regular loads – just finished 10 or so loads of towels and blankets used to help neighbor with her flood.

LIVING AREAS

… mostly tidy, but need to do

ALL

floors

KITCHEN

… laundry room is at the back of the kitchen and I have been doing so many loads of wet towels and such that the whole room needs a serious deep clean.

STUDIO

… I've been packing so there is a bit of a mess that will remain for awhile.

YARD

… Hubby just reseeded the yard and put on a layer of manure.  It seems so odd to be watering after just receiving 3 feet of rain, but we really want the new seed to take root and this seemed like the best time while the ground is soft.

BLOG

…

still

doing some recipe updating and planing for future posts.
CURRENTLY READING & TELEVISION / DVR

STILL READING – I seem to fall asleep after just a paragraph or 2 – Ava Miles #4 Dare Valley – The Holiday Serenade
Waiting for the new season to start, but there are plenty of things still going on:
ZOO
STRAIN
SALVATION
NIGHT SHIFT
MIDNIGHT TEXAS
CHESAPEAKE SHORES
AMERICA'S GOT TALENT
GUY'S GROCERY GAMES
MASTER CHEF – there are some interesting characters left this season and some I can't wait to see go – hint hint JEFF HAS TO GO!

MENU PLANS FOR THE WEEK
| | | | | | | | |
| --- | --- | --- | --- | --- | --- | --- | --- |
| | MONDAY | TUESDAY | WEDNESDAY | THURSDAY | FRIDAY | | SUNDAY |
| BREAKFAST | PROTEIN DRINK & COFFEE | SCRAMBLED EGGS & COFFEE | FRUIT SMOOTHIE | PROTEIN DRINK & COFFEE | SCRAMBLED EGGS & COFFEE | SOUR CREAM WAFFLES AND BACON | SHIRRED EGGS |
| LUNCH | FRUIT & CHEESE | SOUP | MEAT ROLL-UPS | SALAD | MEAT & CHEESE | C.O.R.N. | ?? |
| DINNER | | | & SALAD | | RUSTIC CREAMY PARMESAN CHICKEN | WILTED SPINACH SALAD with GRILLED CHICKEN | |
| DESSERT | | | | | | | |
SUCCESSFUL RECIPE LINKS FROM LAST WEEK
HEALTH & BEAUTY TIPS
HOMEMAKING/COOKING TIP
I saw this on facebook and this is soooooooooooo cool and helpful.
https://www.facebook.com/firstmediasoyummy/videos/1862813597366116/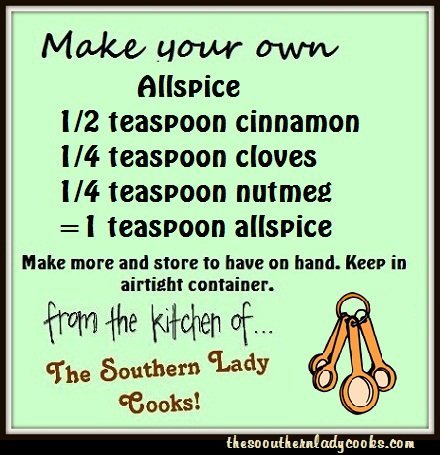 ON MY MIND / THINGS THAT ARE MAKING ME HAPPY
I'm probably hypersensitive this week with all the stress, but it just concerns me that people "stir the pot" so easily in social media. It's so easy these days to "say" something via the written word on social media that you would have thought twice about before saying verbally without really thinking through the implications.
FAVORITE PHOTO FROM THE CAMERA

We were so fortunate where we were in Hurricane Harvey's path.  The rescue helicopters made it super surreal though as we were apparently in a flight pattern.  My oldest friend (we've known each other since we were 2 and 3) Leslie called to check on us though and said her ex SIL was flooded and had to be rescued by boat.  She said she was taking a 4 day weekend and driving down to Help Joan now that the waters were beginning to recede.  We decided we would try to get there to help.  I say try, because where we are kind of became an island of sorts. We couldn't travel in any direction without  coming upon primarily closed flooded out roads. These trucks were full of police in tactical gear coming from a heavily flooded area.
So on Friday we took boots, gloves, a HUGE pot of chili and started out for a location 11 miles away.  It took us 2 hours, but we got there.  It looked like a war zone!  The primary goal was to get all the carpeting, flooring, drywall and ruined furniture and appliance to the curb.  At some point the city will be picking these things up.  With the humidity here, mosquitoes and mold are the worst fears.  I have to say that for the most part my faith in humanity was restored as people just showed up and offered their  services to cut out drywall, move refrigerators and just offer their talents any way they could.  High school guys offering their brute strength, cub scouts passing out water, friends of friends just pitching in…
There were a couple instances of active tries at looting, but neighbors banded together and ran off these offenders.  Joan lives on a cul-de-sac and the guy on the corner has been parking his car sideways at night and standing vigil with an assault rifle to keep people who didn't belong there out.  The neighbors a few streets over that were not flooded brought dinner for the whole neighborhood the first night they were allowed back in. Then on Saturday sack lunches and the kindness continues!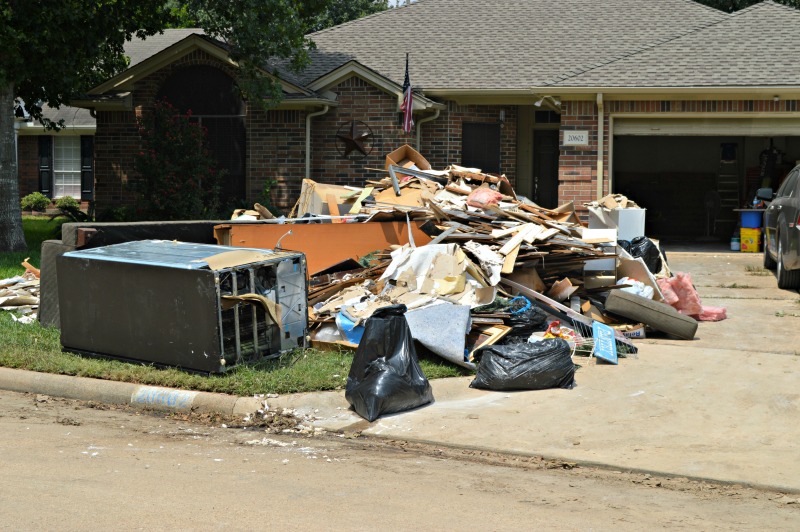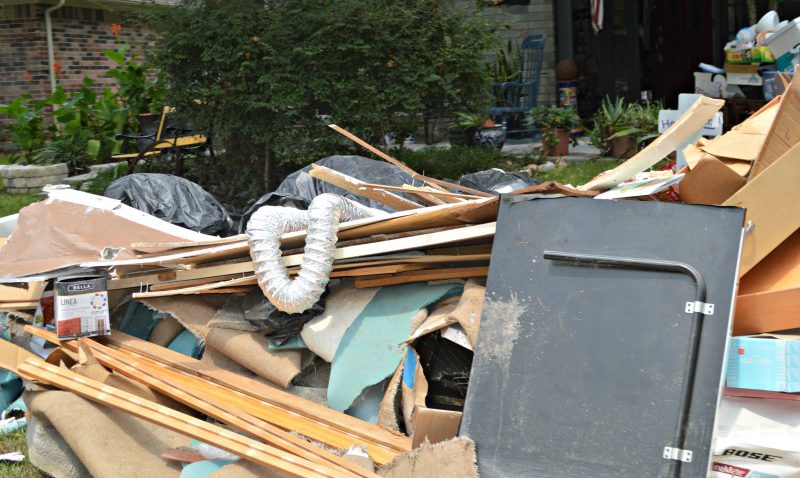 About half way through removing the debris and these pictures are just 2 yards of the many thousands that look just like this or worse. They are urging everyone to put out EVERYTHING that was in flood waters, even what appears salvageable because of the toxins, parasites and such that is in the flood waters.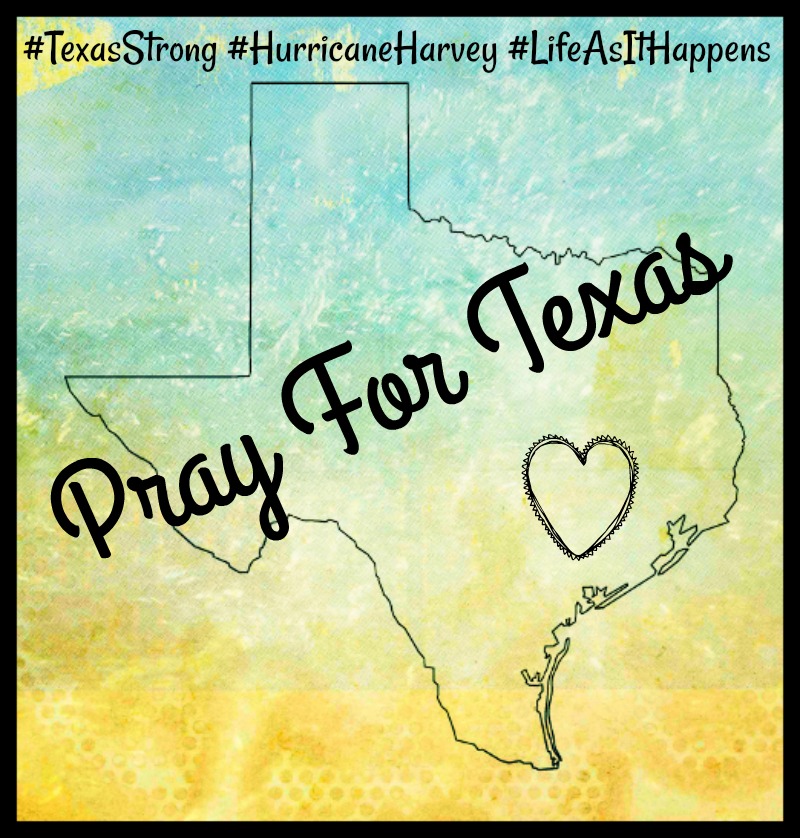 And while we have too much water those poor people in Montana need rain desperately.  Praying for ALL those affected by the wildfires.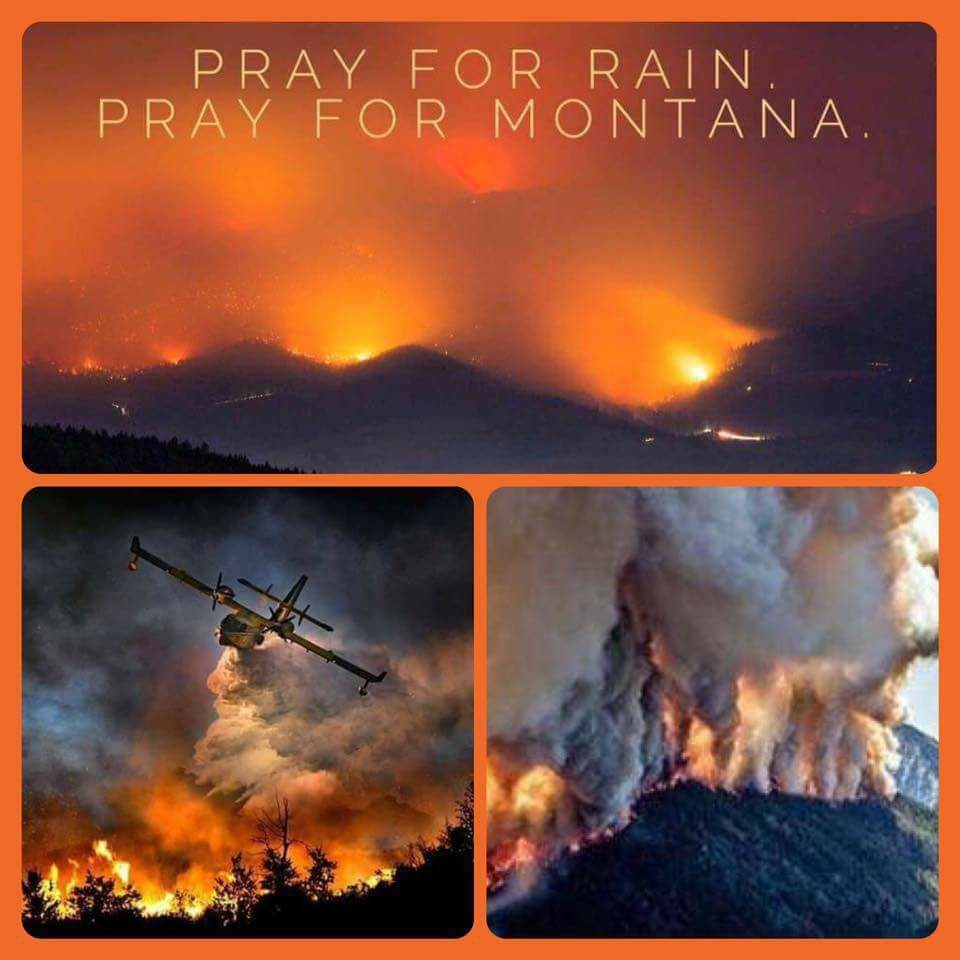 INSPIRATION
Be sure to link up with Sandra at Diary of a Stay at Home Mom for Happy homemaker Monday and with Laura at I'm an Organizing Junkie for Menu Plan Monday.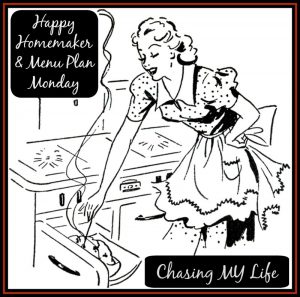 Save
Save
Save
Save
Save
Save
Save
Save
Save