GOOD MORNING. I can't believe it is Monday already again! It really seems like the weeks go faster the closer we get to the end of the year. We had a quiet weekend at home except for the few hours I was out with the girls for a yearly craft fair jaunt and lunch.
There are some friends of a friend that are becoming shut-ins for health reasons so at lunch we discussed who would make what for the Thanksgiving meal that is being taken to them. I got cranberry sauce YUMMY and then started the who is making what list for Christmas Eve at Patty's house after church. I got veggies which I actually like to make, but no one else wants to sign up for. I'm going to make my southern green beans and seagram's honey glazed carrots. All of these recipes will be posted after Thanksgiving as I'm making them then also and need new pictures.
I made the cranberry sauce this weekend and froze it so it will be easily transported in this horrible heat we are still having.  I also got my Thanksgiving menu together (it's only 10 days away) so we could get the shopping done later this week before the crowds.
OUTSIDE MY WINDOW & THE WEATHER OUTSIDE
The weather is better than it has been, but NO WHERE near where it should be for mid November. I am so over the 80 degree temperatures!
ON THE BREAKFAST PLATE
Fresh fruit and coffee
AS I LOOK AROUND THE HOUSE / WEEKLY TO DO LIST & HOUSE PROJECTS
Between now and Thanksgiving I'm working hard every day to get as much manual labor done as possible and super stocking so hubby doesn't have to do much shopping, something he REALLY hates to do and is really not good at LOL. He will be able to do the laundry, vacuuming, dishes etc… with little effort, but I want to make it as easy as possible on him.
LAUNDRY

… quite a few loads this week, towels, bedding and clothing

LIVING AREAS

… plan on doing a

REALLY

deep clean today and tomorrow

KITCHEN

… pretty clean really


STUDIO

… is mainly storage these days so nothing going on there

YARD

… nothing much

BLOG

… some recipe updating, future post planning and holiday post planning

ERRANDS

… blood work and EKG for surgery – never got them done last week with getting sick
CURRENTLY READING & TELEVISION / DVR

I finally finished reading the Bridge to a Better Life by Ava Miles in her Dare Valley Series.  I will finish her series as I'm enjoying it, but for a bit of change I switched over to Jana Deleon's Happily Everlasting series and am on book #2, Once Hunted, Twice Shy.

The Holiday Baking Championship started this past week and I'm enjoying that.

BIG BANG THEORY, YOUNG SHELDON

NCIS, NCIS NEW ORLEANS and NCIS LA, CRIMINAL MINDS, S.W.A.T.

MADAM SECRETARY, SCANDAL, DESIGNATED SURVIVOR
CHICAGO FIRE, CHICAGO PD, CHICAGO MED on the 21st

BRAVE, VALOR, SEAL TEAM
LAW & ORDER SVU, BLUE BLOODS, HAWAII 5-0
MACGYVER, SCORPION, BLINDSPOT, ORVILLE, WISDOM OF THE CROWD

Z NATION, WALKING DEAD, FLASH, DC LEGENDS, INHUMANS

THE GOOD PLACE, AMERICAN HOUSEWIFE, SPEECHLESS, GREAT NEWS

THIS IS US, ONCE UPON A TIME, THE GOOD DOCTOR

GUY'S GROCERY GAMES, BEAT BOBBY FLAY, BOBBY AND DAMARIS, GUY'S BIG PROJECT
MENU PLANS FOR THE WEEK
| | | | | | | | |
| --- | --- | --- | --- | --- | --- | --- | --- |
| | MONDAY | TUESDAY | WEDNESDAY | THURSDAY | FRIDAY | SATURDAY | SUNDAY |
| BREAKFAST | FRUIT & COFFEE | SCRAMBLED EGGS | FRUIT SMOOTHIE | FRUIT & COFFEE | SCRAMBLED EGGS | PANCAKES and BACON | HAM and EGG OMELETS |
| LUNCH | FRUIT & CHEESE | SOUP | MEAT ROLL-UPS | SALAD | MEAT & CHEESE | C.O.R.N. | ?? |
| DINNER | OLD FASHIONED TUNA NOODLE CASSEROLE | BURGERS with GREEN TOMATO MAYO | DEVILED BEEF TENDERS and PARMESAN MASHED POTATOES | BRANDING IRON MEATBALLS |  SMOTHERED STEAK TIPS and ROASTED ROOT VEGGIES |  SWEET & SOUR CHICKEN with SCALLION RICE |  PORK MARSALA with BUTTERED EGG NOODLES |
| DESSERT | | | | | | | |
SUCCESSFUL RECIPE LINKS FROM LAST WEEK
HEALTH & BEAUTY TIPS
HOMEMAKING/COOKING TIP
ON MY MIND / THINGS THAT ARE MAKING ME HAPPY
I'm doing a countdown to surgery.  Just 23 days to go.  It will be a LONG 23 days though.  I ended up with laryngitis and bronchitis last week and the doctor and I agreed upon a self-imposed "isolation" to keep me healthy enough for surgery. We had been out of town the week before a few days and she believes coming back here with the higher humidity was what did me in. Then last night I discovered new eye infection similar to the last and put in for an emergency referral last night and am waiting on the call to go in to the specialist.  It wasn't this bad last time and he almost put me in the hospital so I am a little scared this time. Something I'm allergic to or exposed to is biting me maybe.  Since the last time I have been washing the towels and sheets every two days as it is.  Hubby is convinced that I picked up something working on this HOUSE FROM HELL that I have just never been able to get rid of because of my compromised immunity.  I'm beginning to think he may be right.
Even if the doctor hadn't suggested it, hubby was going to impose an isolation because of my compromised immunity.  I did go to a favorite craft fair on Saturday and came home with a slight fever and coughing, so have acquiesced to hubby and agreed to a more stringent "isolation".  Insert BIG SIGH here! At this point I will do whatever is necessary to get me through surgery with no more delays.  I AM READY TO RECLAIM MY LIFE!
FAVORITE PHOTO FROM THE CAMERA

We haven't had much rain, but sure have had pretty skies!
INSPIRATION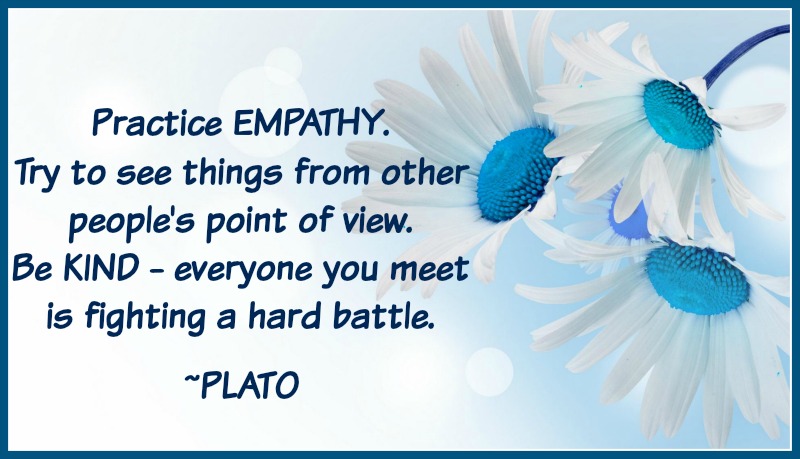 Be sure to link up with Sandra at Diary of a Stay at Home Mom for Happy homemaker Monday, Terri at Darling Downs Diaries and with Laura at I'm an Organizing Junkie for Menu Plan Monday.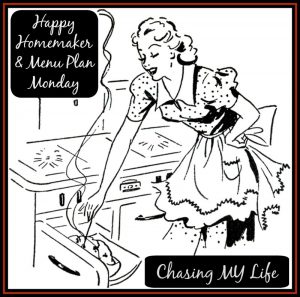 Save
Save
Save
Save
Save
Save
Save