These two recipes go hand in hand for us.  The marinade on the chicken makes it sooooooooo tender and flavorful too. The tomato potato casserole is good, but add the sauce and it ALL comes together as GREAT & YUMMY! 😀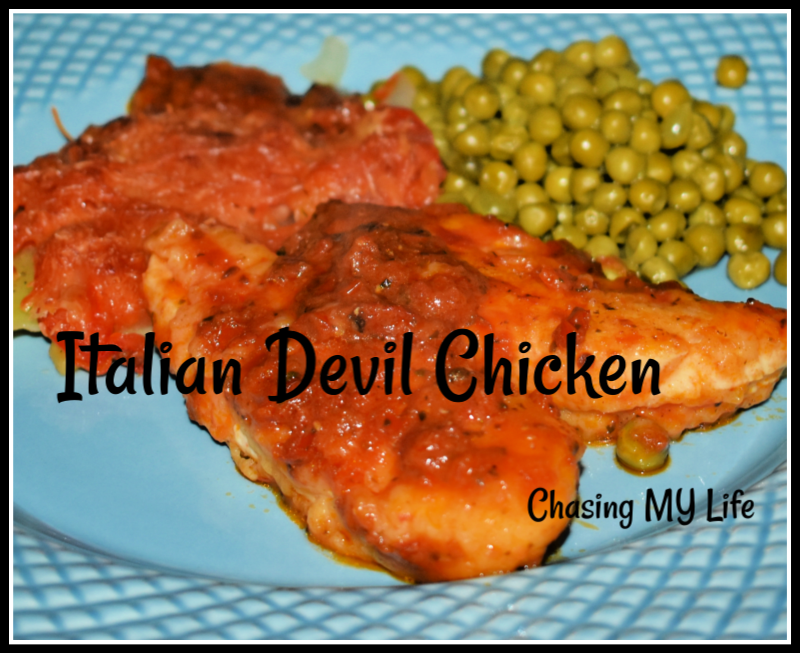 ITALIAN DEVIL CHICKEN & TOMATO POTATO CASSEROLE
ITALIAN DEVIL CHICKEN
1 pound Chicken tenders
2 ounces avocado oil
3 cloves garlic, minced
Juice of 1 LARGE lemon
2 tablespoons Frank's Original Hot Sauce
FRESH ground sea salt and black pepper
Wondra flour for dredging
1 tablespoon butter
Whisk together the avocado oil, lemon juice, garlic and hot sauce.
Season chicken tenders generously with FRESH ground salt and pepper.
Add chicken pieces to a shallow dish and pour marinade over top.
Cover and chill 4-8 hours or overnight.
Melt butter in skillet over medium heat.
Drain marinade off chicken pieces.
Dredge chicken pieces in flour and add to skillet.
Sear chicken pieces 2-3 minutes each side until golden and cooked through.
Remove chicken pieces and keep warm while preparing sauce.
SAUCE
4 ounces tomato pesto
1 cup Marsala wine
In the same skillet add wine being sure to scrape up all the browned bits.
Whisk in tomato pesto and simmer on medium high 5-6 minutes until heated through and slightly reduced.
Serve sauce over chicken pieces.
TOMATO POTATO CASSEROLE
potatoes, peeled and sliced thin
Italian Roma tomatoes, sliced thin
Vidalia onion, sliced thin
FRESH ground sea salt and black pepper
Parmesan Cheese, grated
FRESH basil leaves, torn, to taste
5-6 tablespoons Avocado oil
1/4 cup water
Spray baking dish with non-stick cooking spray.
Arrange potatoes in a layer, followed by a layer of onions and then a layer of tomatoes.
Sprinkle with basil leaves, to taste.
Season each layer to taste.
Repeat layers ending with the Parmesan cheese.
Sprinkle oil over cheese layer evenly.
Pour water over top.
Bake covered for 30 minutes.
Bake for another 30 minutes or until tender and cheese is golden.