When we go antiquing one of my favorite finds are old recipe boxes, BUT they have to be full of lovingly handwritten recipes!  Needless to say between these finds, cookbooks and magazines I have amassed a LARGE amount of recipes to try or if you will, scraps of recipes, hence the new meme name.
Years ago I participated in a meme called Magazine Monday in an effort to clean out magazines and cook booklets hosted over at the now defunct blog Cream Puffs in Venice. I'd love to revive that meme AND clean out ALL my scraps of paper, but as I don't know how to contact her for her permission to use the meme, I've decided to create my own theme called RECIPE SCRAPS and even better it won't be tied to a specific day 😀  I like not assigning a specific day to this theme AND even better these scraps of paper will go away forever as I try each recipe.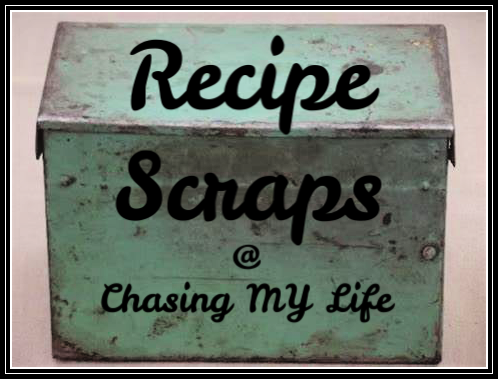 BANANA PUMPKIN MERINGUE PIE
1 pie crust (homemade or store bought – your choice)
1 can Libby's pumpkin puree
6 bananas
3 eggs
1 cup heavy whipping cream
1/2 cup sugar
1 teaspoon pumpkin pie spice
2 tablespoons unsalted butter, softened
1/2 teaspoon FRESHLY grated nutmeg
pinch FRESH ground salt
Preheat oven to 350°.
Arrange unpeeled bananas on cookie sheet and roast 10 minutes. Remove from oven and cool before handling.
Increase oven temperature to 375°.
Line a 9 inch pie plate with pie dough.
Lightly brush the edges of the pie shell with heavy cream to create a perfect, golden brown finish.
Peel bananas.
Add bananas to food processor and puree.
Add sugar, eggs, cream, pumpkin pie spice, butter, nutmeg and salt.
Add pumpkin and stir until JUST incorporated.
Transfer to pie plate.
Bake 50 minutes or until set around edges and only slightly jiggles.
Cool completely on rack.
MERINGUE
4 egg whites
6 tablespoons powdered sugar
1/4 teaspoon cream of tartar
pinch FRESH ground salt
Preheat oven broiler.
Beat egg whites until frothy.
Add cream of tartar and powdered sugar 1 tablespoon at a time until stiff glossy curled peaks form.
Spread on filling being sure to seal the edges to the pie crust.
Swirl meringue with the back of a spoon to create decorative peaks.
Broil at least 4 inches from the heat source for 5-7 minutes or until lightly golden.
Let cool 30 minutes before slicing.
NOTE:
Preparing your meringue in a freezer chilled metal bowl with freezer chilled beaters helps with the meringue success.
If you have a kitchen torch, you can also use this method as an alternative, but be careful to spread the flame evenly across the entire surface to achieve a uniform look.