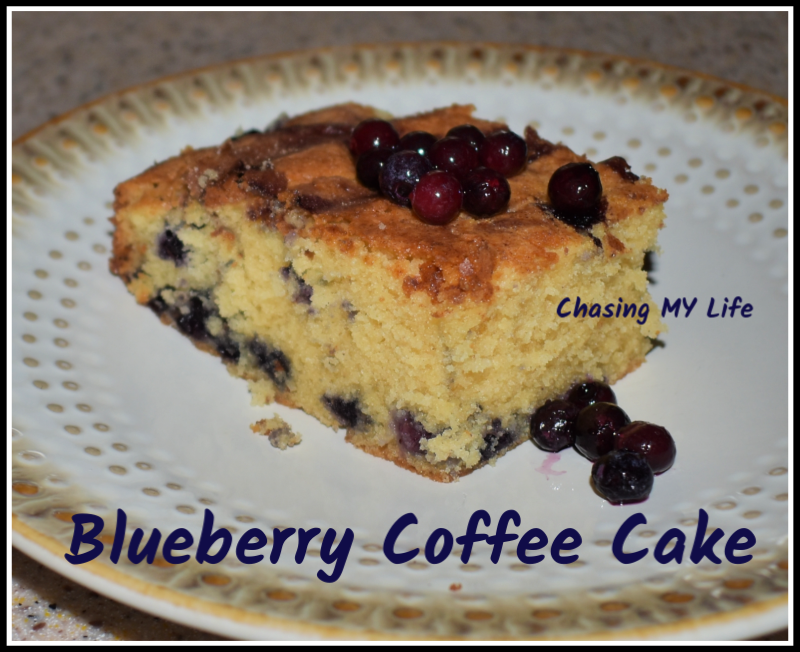 BLUEBERRY COFFEE CAKE
CAKE
1 cup all purpose flour + 1 tablespoon
1 tablespoon for dusting
1 tablespoon baking powder
1 teaspoon salt
2 sticks (1 cup) unsalted butter, softened
3/4 cup packed brown sugar
1/2 cup Stevia in the raw
3 large eggs
1 teaspoon PURE vanilla
1 cup whole milk
3/4 cup frozen small wild blueberries DO NOT THAW
Preheat oven to 350°.
Grease and flour dust 13×9 baking dish. Set aside.
Sift together 1 cup flour, baking powder and salt.
In a larger mixing bowl cream the butter with an electric mixer.
Add Stevia and brown sugar, beating until fluffy.
Add eggs 1 at a time beating

JUST

until blended in.
Reduce mixer speed. Add flour mixture and milk alternately until well blended.

GENTLY

toss blueberries with 1 tablespoon flour.
Fold blueberries

GENTLY

into batter.

GENTLY

spread batter into prepared baking dish.
TOPPING
2/3 cup frozen small wild blueberries DO NOT THAW
1/4 cup granulated sugar
1/2 teaspoon cinnamon
Whisk together the sugar and cinnamon.
Toss blueberries in the sugar mixture.
Scatter blueberries and sugar evenly on top of batter.
Bake cake 45 minutes or until toothpick comes out clean.
Cool cake in pan 10-15 minutes before cutting.
NOTE: You can use FRESH berries.  But, if using FROZEN berries DO NOT THAW!!  Thawing the berries makes them too watery and will turn your batter blue.