Chicken and cream cheese spread stuffed into jalapenos, rolled and wrapped with bacon and then grilled. YUMMY!
BACON WRAPPED JALAPENO CHICKEN BITES adapted from Trisha Yearwood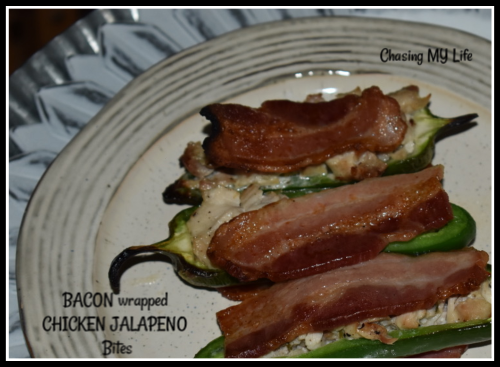 4 boneless, skinless chicken thighs
1 tablespoon butter
FRESH ground sea salt and black pepper
3-ounce package cream cheese (I use herbed cream cheese spread), softened
8 LARGE jalapeno peppers, halved and seeded
8 slices bacon
Generously season chicken thighs with FRESH ground sea salt and black pepper.
Saute chicken pieces until browned and cooked through.
Move chicken to cutting board and dice small or shred.
Stir chicken pieces into softened cream cheese.
Wrap each roll with one piece of bacon and secure with a toothpick. (These look a bit odd today because I only had half slices of bacon).
Grill until bacon is brown and crispy on both sides.
NOTE: Be sure to wear plastic gloves when handling fresh jalapenos. The oil will attach itself to your hands and is not easily washed away. Even an inadvertent swipe of the hand close to your eyes could be a VERY unforgettable and unwelcome experience.