A really flavorful and nice addition to this recipe is a batch of shallots or onions caramelized with mushrooms added to the gravy after the meatballs bake! YUMMY!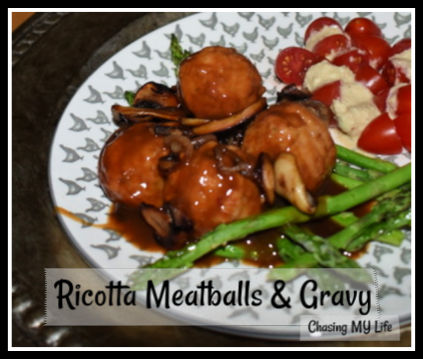 RICOTTA MEATBALLS
4 slices white bread, torn into small pieces
1/3 cup whole milk
2 pounds ground chuck
8 ounces deli ham, finely chopped
1 cup whole milk ricotta cheese
3 ounces FINELY grated pecorino Romano cheese
1/2 cup finely chopped yellow onion, squeezed dry of moisture
2 teaspoons – 1 tablespoon FRESH ground sea salt
2 teaspoons dried oregano
1 teaspoon chopped fennel seeds
1/2 teaspoon FRESH ground black pepper
4 LARGE eggs
2 tablespoons avocado oil
1 batch beef gravy (recipe below)
Preheat oven to 450°.
Place bread pieces in bowl and pour in milk. Using your hands press bread into milk and let stand 5 minutes.
In a large bowl arrange meat with a well in the center.
Add the ham pieces, onions, ricotta cheese, romano cheese, ham pieces, eggs, fennel, bread pieces, salt, oregano and pepper to the well.
Gently and gradually incorporate all together without overtaxing.
Spray baking dish with non-stick spray or brush with avocado oil.
Pour gravy into baking dish.
Form meat into 1 inch meatballs and arrange in the gravy 1 inch apart, turning to coat.
Bake 30 minutes until meatballs are golden brown and are cooked through.
BEEF GRAVY
1⁄4 cup butter
1⁄4 cup flour
1 tablespoon Better Than Beef Bouillon
2 cups beef broth
FRESH ground salt and black pepper, to taste
1 teaspoon Kitchen Bouquet (optional)
Melt butter in a saucepan over medium heat.
Add flour and whisk together, making sure to get all visible lumps.
Add salt and pepper to taste.
Cook over medium heat for 5 minutes or until mixture starts to turn light brown, be sure to stir constantly.
Whisk bouillon and beef broth together.
Reduce heat to low and SLOWLY add broth mixture, stirring constantly. It may spit & bubble so be careful.
Add optional Kitchen Bouquet.
Turn heat back up to medium.
Continue stirring until gravy boils and thickens.
Makes about 2 cups.