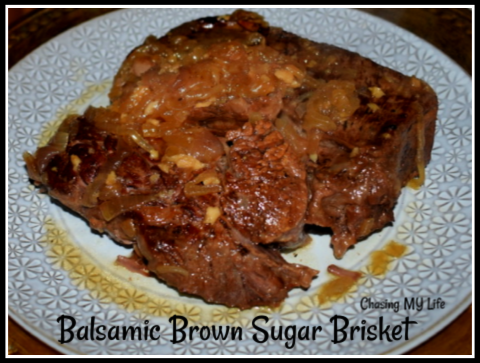 BALSAMIC BROWN SUGAR BRISKET
4-5 pound beef brisket
3 tablespoons avocado oil
3 red onions, halved and thinly sliced (4-6 cups)
1 whole bulb garlic, cleaned and minced
2 bay leaves
1 1/2 cups beef broth
1/3 cup QUALITY balsamic vinegar
1 tablespoon champagne vinegar
1/2 cup packed brown sugar
2 teaspoons onion powder
1 teaspoon garlic powder
FRESH ground sea salt and black pepper
Preheat oven to 325°.
Generously season brisket with FRESH ground sea salt and black pepper.
Heat 2 tablespoons of the oil in a dutch oven.
Add brisket and sear each side until browned, about 4 minutes per side.
Remove brisket and set aside.
Add remaining oil to pan.
Add onions, garlic and bay leaves. Cook stirring often, 5-10 minutes, until fragrant and onions have softened.
In a bowl whisk together the beef broth, vinegars, brown sugar, onion powder and garlic powder.
Transfer the onion mixture to a roasting pan.
Top with brisket.
Pour broth mixture over brisket.
Cover and cook 2 hours.
Flip meat over, recover tightly and cook another 2-2 1/2 hours until fork tender.
Transfer meat to cutting board and loosely cover with foil, resting 10 minutes.
Slice meat against the grain and put on platter.
Using a slotted spoon arrange the onions around the brisket, discarding the bay leaves.
Skim fat from pan juices and discard. Pour juices over the onions and brisket.