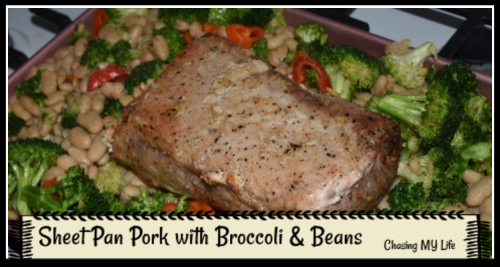 SHEET PAN PORK with BROCCOLI & BEANS
1 1/4-1 1/2 pound pork tenderloin
1/4 cup avocado oil
3-4 cloves garlic, 3 minced and 1 large peeled
1 teaspoon sweet paprika
1/2 teaspoon dried oregano
8 pickled red peppers plus 1 tablespoon of the brine
4 cups broccoli florets
2 tablespoons FRESH chopped Parsley
Juice of 1 lemon plus the zest
1 or 2  – 15 ounce can(s) small navy beans or cannelini, drained and rinsed
Preheat oven broiler.
Generously season pork roast and place pork on a rimmed baking sheet.
In a small bowl mix 1 tablespoon of the avocado oil, the minced garlic, paprika, oregano and 1 tablespoon of the pepper brine. Rub all over pork roast and let stand 5 minutes.
Broil 8 minutes until lightly browned, 7-8 minutes.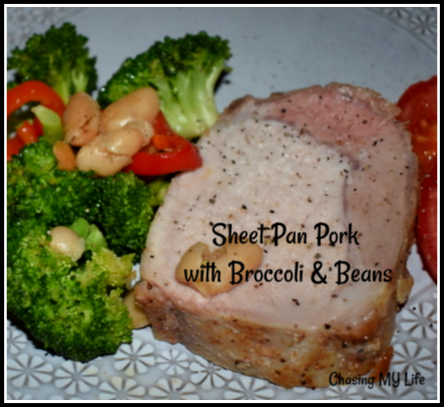 While pork is broiling toss the broccoli florets with the peppers, navy beans and remaining garlic, 2 more tablespoons avocado oil salt and pepper to taste in a large bowl.
Flip pork tenderloin and arrange broccoli mixture around pork and return to the oven.
Return pan to oven and broil until pork reaches 145° and broccoli is slightly charred, 8-10 minutes more.
Whisk together the remaining pepper brine, avocado oil, parsley, lemon juice and zest. Season to taste.
Slice the pork and serve with broccoli drizzled with the herb sauce.