CHICKEN & BROCCOLI COBBLER yields 4 servings
1/4 cup butter, melted
4 cups cubed sourdough or Brioche bread
1/2 cup finely shredded Parmesan cheese
3 cups SMALL broccoli florets
3 cups torn rotisserie chicken
scant 1/3 cup finely chopped red pepper
1 small bunch green onions, sliced thin
1 1/4 cups Alfredo sauce (homemade, fresh deli or jarred)
1/2 cup sour cream
2 tablespoons cream sherry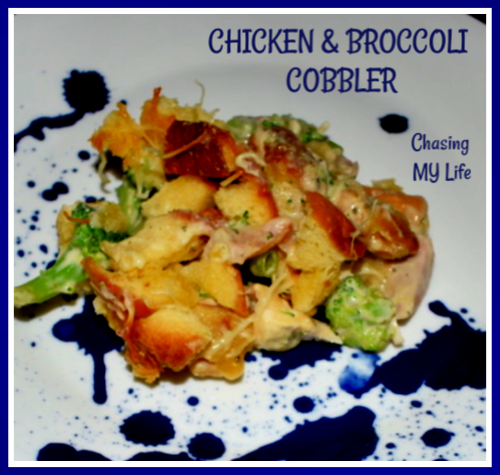 Preheat oven to 400°.
Lightly grease baking dish or ramekins. Set aside.
In a large bowl drizzle butter over bread cubes and toss well.  Reserve 1 cup to top casserole with.
Sprinkle with cheese and toss again.
Whisk together the Alfredo sauce, sour cream and cream sherry.
In another bowl toss together the broccoli, chicken, bell pepper, onions and sour cream mixture.
Add half of the bread cube mixture to the broccoli mixture and toss well.
Spoon broccoli filling into baking dish or ramekins.
Top with remaining bread cubes.
Bake uncovered for 20-30 minutes until bubbly and toasted.
NOTE:  If using a rotisserie chicken I salvage the juices from the bottom to incorporate with the melted butter to add flavor to the bread cubes.