These decadent bars are so scrumptious! With a wonderful buttery shortbread crust bottom and silky smooth ganache icing on top, the caramel and brownie sandwiched in between finish it off perfectly.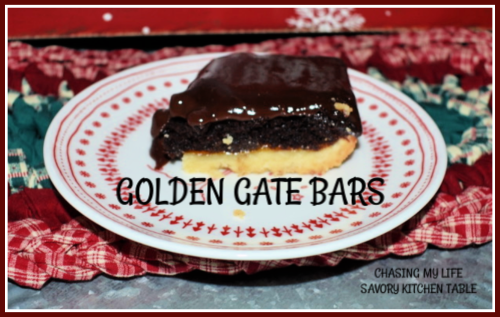 GOLDEN GATE BARS – makes 12 bars
SHORTBREAD
1/2 cup butter, softened
1 cup all-purpose flour
1/4 cup powdered sugar
Stir together butter, flour, and powdered sugar until well blended.
Press into prepared pan.
Bake crust 5 minutes.
Place unopened caramel pouch in cup of hot water for 5 minutes to soften caramel.
Gently spread entire contents of caramel pouch evenly over baked crust.
BROWNIES
1 package Ghirardelli Salted Caramel Brownie Mix
1/4 cup water
1/4 cup vegetable oil
1 egg
Preheat oven to 325°.
Lightly grease 9 x 9-inch baking pan.
Place water, oil and egg in medium bowl and whisk until blended well.
Add brownie mix and stir until well blended.
Spread batter evenly over caramel layer.
Bake 40 minutes.
Cool brownies completely before topping with ganache.
GANACHE
3/4 cup heavy cream
3/4 cup Ghirardelli Semi-Sweet Chocolate Chips
sea salt, optional
In microwave-safe bowl, microwave cream on high power just until boiling.
Add chocolate and stir until chips are completely melted.
Pour warm ganache over cooled brownies and let set before cutting.
Garnish with a sprinkle of sea salt, if desired.