Be sure to join us for Happy Homemaker Monday and link up
with our host, Sandra at Diary of a Stay at Home Mom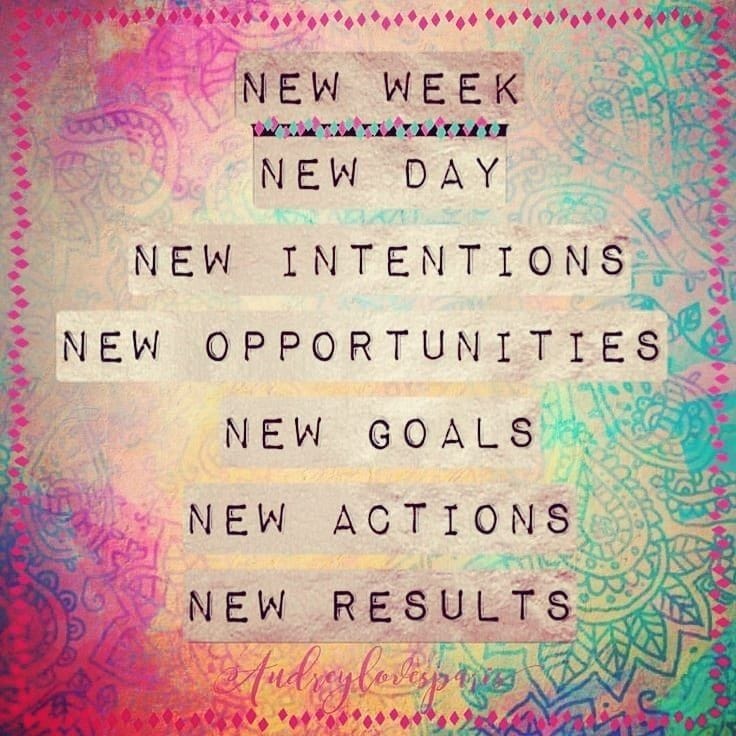 GOOD MORNING I have to start my day by wishing my wonderful hubby HAPPY BIRTHDAY!  He is the best man I know and am proud to call him mine 😀

It was a cold, wet and windy weekend here – the kind of weather pattern that EVERY hour was different!  Saturday morning was sunny, but cold so we decided to take a bunch of stale bread, chips and cereal over to feed the peacocks and we literally encountered a half dozen different weathers!  It's only 10 miles away.  We found a dry spot under a shed to leave their food and headed home as the sleet and wind was more than we wanted to deal with!  We watched old movies, NASCAR and I baked hubby's cheesecake for today so it would have plenty of time to chill 😀
I felt a bit achy and lethargic over the weekend and started a bit of a cough that is getting worse and wet so will be staying in until I'm better.  I did get a flu shot and haven't been anywhere too much around people so hoping it will pass in a day or two if I stay down and warm.
Don't forget that we switch time next weekend too!

OUTSIDE MY WINDOW & THE WEATHER OUTSIDE & WHAT I'M WEARING The sunny deceptive warm afternoons of last week are gone and we're back to normal cold, wet weather here.  Highs in the 40's, lows in the 30's, windy and wet.  I'm not going anywhere today until late afternoon so I'm wearing yoga pants and a favorite old soft sweatshirt with fuzzy slippers!

ON THE BREAKFAST PLATE Hot water and peach yogurt
AS I LOOK AROUND THE HOUSE, WEEKLY TO DO LIST, HOUSE & CRAFT PROJECTS, APPOINTMENTS
LAUNDRY,

LIVING AREAS & KITCHEN

… House got a deep clean last week, but I still have a load of laundry to do.


HOUSE & YARD

… backyard garden boxes need some attention as they are not weathering well in the winter months, replacing weatherstripping on the mudroom and garage doors and hubby is hoping to get the last 18 supports done on the fence he re-did last year – he was hoping they might not need done, but the weather has indicated otherwise 😀 …


CHORE I'M NOT LOOKING FORWARD TO

… ANTS!!!!!  I

HATE

this time of year when the crazy ants come inside.  They are not looking for food or even water and they turn up in all the weirdest places – like out of electrical outlets or making a pilgrimage to the dryer!  I bought all new ant traps for inside and outside their normal areas.  I've caulked along baseboard seams and venting.  They appear to be coming from under the house and seem impervious to any and

ALL

ant traps or deterrents So the chore is to try and find yet another way to eliminate them…


APPOINTMENTS & TO DO

… eye doctor, pedicure, grocery shopping, errands, meeting…


BLOG

… A few new recipes will post this week.  I've gotten my "recipeBox" blog, Savory Kitchen Table pretty much up to date… I think!


TO RELAX THIS WEEK I'LL

… to me is synonymous with CRAFTS & PROJECTS… With the blanket chest and flowers beds done, I am seriously hoping to get to a quilt or mixed media project this next weekend.
WHAT IS ON THE DVR, I LIKE OR ON THE LIST TO WATCH/SOMETHING INTERESTING I WATCHED We watched a couple old Svengoolie movies that were on the DVR and a political drama on Netflix as well as NASCAR and some old Cheers reruns from Netflix.

I'M READING The Girl You Left Behind by Jojo Moyes – a WWI tale that traverses a century of history and provenance of a painting as it interacts with the people who see it.
Paris, World War I. Sophie Lefèvre must keep her family safe while her adored husband, Édouard, fights at the front. When their town falls to the Germans, Sophie is forced to serve them every evening at her hotel. From the moment the new Kommandant sets eyes on Sophie's portrait—painted by her artist husband—a dangerous obsession is born.
Almost a century later in London, Sophie's portrait hangs in the home of Liv Halston, a wedding gift from her young husband before his sudden death. After a chance encounter reveals the portrait's true worth, a battle begins over its troubled history and Liv's world is turned upside all over again.
FAVORITE PHOTO FROM THE CAMERA The Jack Daniel's Whiskey Barrels we bought have worked well to cover the stumps that were impossible to dig out.  They will also last a long, long time.  Hubby used the bottoms he cut out as pavers.  I found some long "dead" bulbs in the shed and have been pleasantly surprised to see that a couple appear to actually be taking root.  We'll see 😀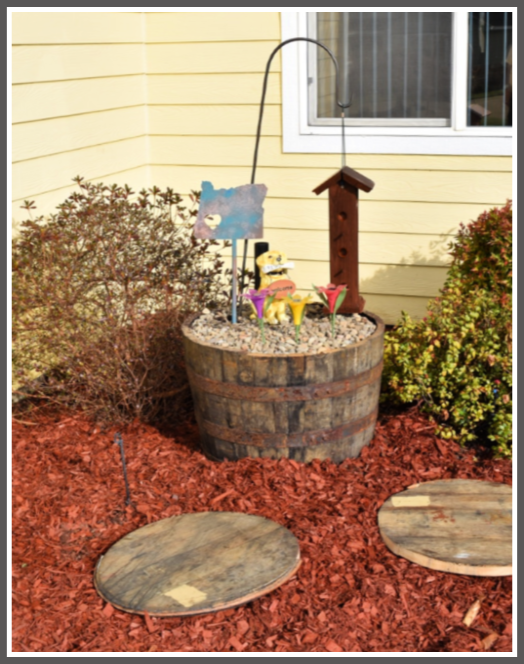 MENU PLANS FOR THE WEEK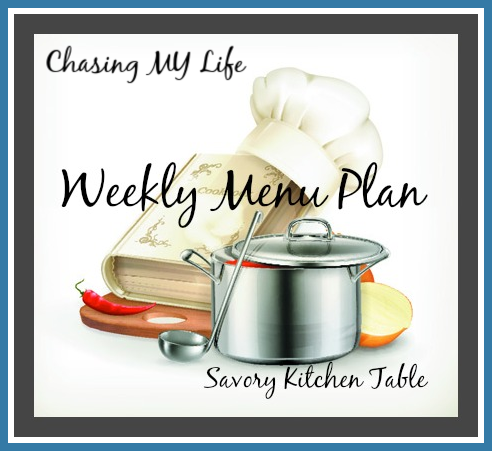 | | | | | | | | |
| --- | --- | --- | --- | --- | --- | --- | --- |
| | MONDAY | TUESDAY | WEDNESDAY | THURSDAY | FRIDAY | SATURDAY | SUNDAY |
| BREAKFAST | YOGURT & HOT WATER | YOGURT & HOT WATER | YOGURT & HOT WATER | YOGURT & HOT WATER | YOGURT & HOT WATER | SHIRRED EGGS | APPLE FRENCH TOAST |
| LUNCH | TUNA MELTS | GRILLED CHICKEN & TOMATOES | MEAT & CHEESE WRAPS | ~C.O.R.N.~ clean out refrigerator night | SALAD & FRUIT | PICNIC? | CHILI |
| DINNER | Hubby's Choice Pan seared New York Steak, baked potatoes and salad with BANANA CREAM CHEESECAKE | BOLOGNESE RAVIOLI and SALAD | BLACK COD, HERB RICE PILAF and SALAD | ~C.O.R.N.~ clean out refrigerator night | CHICKEN APPLE BUNDLES and COLE SLAW | BACON GRUYERE QUICHE | JEZEBEL SAUCE and CREAM CHEESE with CRACKERS |
| DESSERT | | | | | | | |
FEATURED PARTY LINKS FOR THIS WEEK
RECIPES TO LOOK FOR THIS NEXT WEEK OR SO

BANANA CREAM CHEESECAKE

SUN-DRIED TOMATO BASIL VINAIGRETTE
SLOW COOKER PORK CHOPS & RICE
JACK ALLEN'S MEATLOAF (sort of)
BACON GRUYERE QUICHE

INSPIRATIONAL

LIFE TIP Using LARGE mismatched buttons to keep earring sets together can be super helpful.

HOMEMAKING/COOKING TIP