Be sure to join us for Happy Homemaker Monday and link up
with our host, Sandra at Diary of a Stay at Home Mom
GOOD MORNING I hope you all had a blessed Easter though I'm sure it was probably quieter than normal for most. I know it was here!  I REALLY missed the munchkins and family time.  Cooking for 2 on a holiday is just weird!

I also hope you are all finding ways to stay on a basic routine and busy.  I find it really helps keep me sane! I've helped hubby with a few projects outside like the pressure washing which always takes so much energy to get it all done, but it's a necessary evil up here to keep the moss at bay.  He has also gotten rid of all the wasp nests that were being formed in the eave areas and rebuilt the wooden garage step and fixed the mudroom step and rebuilt the sprinkler box frame and finally finished the lower fence border.  Now he's painting a shelf unit he built for me.  It was raw wood and it's taking about 4 coats to match the red hope chest.

I pray that when this is all over and we "return to normal" that we all evaluate just what should be in that "normal" now that we have been forced to slow down and realize we really don't have to do it ALL!  I pray that families have reconnected, eaten their meals together, sat and talked and/or laughed together, walked or gardened, played board games, solved jigsaw puzzles…  You see where I'm going with this.  I do find it a bit disconcerting that Dominoes pizza is hiring 10,000 employees to deal with the uptick in pizzas!

Hubby wants to do his part to answer the call for blood and he is a universal type "O".  The red cross has set up a special donation site in town for 2 days so he has an appointment to give blood today.  Unfortunately, they won't take mine because of my underlying conditions, but I'll be tagging along.  I will stay in the car to read while he is inside and then he'll take me to do some much overdo grocery shopping and then we'll be back here to shower off the excursion.

OUTSIDE MY WINDOW & THE WEATHER OUTSIDE & WHAT I'M WEARING As always at this time of year, the prediction and the reality of the weather are ALWAYS different.  They predict mid 60's and party cloudy or sunny for most of the week with lows in the high 30's or low 40's.  What they don't mention is the morning fog that takes forever to burn off and only allows that high and sun to be around for a few hours before the sun sets. 😀  We actually need rain – not something you would usually hear from the Pacific Northwest.  And if their predictions are correct we'll have just that by the end of the week.  I'm wearing Levi's, one of my favorite 3/4 sleeve T-shirts and tennies.

ON THE BREAKFAST PLATE Hot water and baby food

AS I LOOK AROUND THE HOUSE, WEEKLY TO DO LIST, HOUSE & CRAFT PROJECTS, APPOINTMENTS
MONDAY

Grocery shopping


Hubby Red Cross appointment for blood donation

Work on Blue Mirepoix quilt

TUESDAY

paint shelving unit to match hope chest


work on Catty Corners Quilt

finish jigsaw puzzle that it giving me a headache




WEDNESDAY

cut quilt pieces

clean out photo file

clean out email SPAM folder




THURSDAY

paperwork and filing

menu plan

vacuum




FRIDAY

weed

POLISH kitchen counter tops


work on Christmas ornament "hooks"

SATURDAY

Farmer's Market

NOT

, but a girl can dream 😀


Clean baseboards




SUNDAY
WHAT IS ON THE DVR, I LIKE OR ON THE LIST TO WATCH/SOMETHING INTERESTING I WATCHED

Everything is pretty much over for the season (or longer ??), but I've been watching a lot of Game Show Network, Hallmark movies, the Cooking channel "home" episodes of the Joanna Gaines, Guy Fieri and even the Pioneer Woman, Netflix movie, Badland and we started the  Amazon series, Tales From the Loop.
I'M READING The Cookbook a novel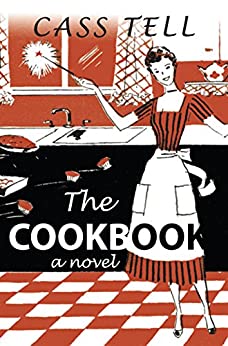 What if your grandmother's old Betty Crocker cookbook contained mysterious messages that would shockingly change your life? For Kate Miller all is perfect. She is falling in love with the ideal man while advancing in her professional career. Then her neat and ordered life crashes.
She receives a strange email from her deceased grandmother. Coupled with this, her apartment is burgled and her cookbooks are stolen, the ones she was instructed to preciously guard. After hiring a quirky private detective she goes on a quest that leads to an impossible truth.
This exciting action thriller is interlaced with memories of tastes, smells and laughter in the kitchen, and how a grandmother lovingly prepared a young girl to face enormous challenges. Not only did Kate learn the craft of cooking, but also values from old-world traditions. These savoury breaks in the story provide unusual twists not typically found in bestseller action-thriller novels.
Those lessons passed from one generation to the next give Kate the strength to face powerful forces. While solving mysteries she is led on a journey of self-discovery, having to ask hard questions. What is this disconcerting game that her grandmother is playing and for what purpose? Is her past just an illusion? And, why are these malevolent people intent on extracting some unknown truth from her?
FAVORITE PHOTO FROM THE CAMERA One day last week the peacock food bin was full and even though we knew the park gates would be closed we decided to get out of the house for a small drive which we figured would be safe since we weren't really stopping or getting out anywhere. We knew the peacocks would be near the fence looking for their hand-outs especially since the gates were closed.  We weren't wrong 😀  I just tossed the food over the fence to them and they were thrilled, but even they were practicing social distancing 😀 at least more than usual. We also passed by this cute mannequin that this family dresses up every season.

MENU PLANS FOR THE WEEK
| | | | | | | | |
| --- | --- | --- | --- | --- | --- | --- | --- |
| | MONDAY | TUESDAY | WEDNESDAY | THURSDAY | FRIDAY | SATURDAY | SUNDAY |
| BREAKFAST | YOGURT & HOT WATER | YOGURT & HOT WATER | YOGURT & HOT WATER | YOGURT & HOT WATER | YOGURT & HOT WATER | LEMON BLUEBERRY PANCAKES | SHIRRED EGGS |
| LUNCH | LEFT OVER EASTER HAM SANDWICHES | LEFT OVER EASTER HAM SANDWICHES | TUNA SALAD | C.O.R.N. CLEAN OUT REFRIGERATOR NIGHT | SALAD & FRUIT | LEFT OVER EASTER HAM SANDWICHES | C.O.R.N. CLEAN OUT REFRIGERATOR NIGHT |
| DINNER | HAM TETRAZZINI and SALAD | CHICKEN & RICE CASSEROLE with PARMESAN PAN ROLLS | MONROVIAN CHICKEN PIE and SALAD | C.O.R.N. CLEAN OUT REFRIGERATOR NIGHT | SWISS CHICKEN and CORN CASSEROLE | PORK CHOPS with TOMATO GRAVY and GOLDEN POPOVERS | C.O.R.N. CLEAN OUT REFRIGERATOR NIGHT |
| DESSERT | | ROOT BEER BROWNIES | | | | | |
SUCCESSFUL RECIPE LINKS FROM LAST WEEK
FEATURED PARTY LINKS FOR THIS WEEK
RECIPES TO LOOK FOR THIS NEXT WEEK OR SO

PINEAPPLE ORANGE HAM
CARROT PINEAPPLE SALAD
PASTA WITH CREAMY ARTICHOKE RAGU
INSPIRATIONAL

LIFE TIP
HOMEMAKING/COOKING TIP