There is nothing quite so decadent and flavorful as the perfectly braised beef short rib.  Add some candles and you can have a romantic dinner in. As with everything during this quarantine time, I worked with what I had on hand. I substituted sake for white wine and it tasted great!  I was also out of beef broth, but quickly made some from a jar of Better Than Beef Bouillon I keep on hand just for reasons like this.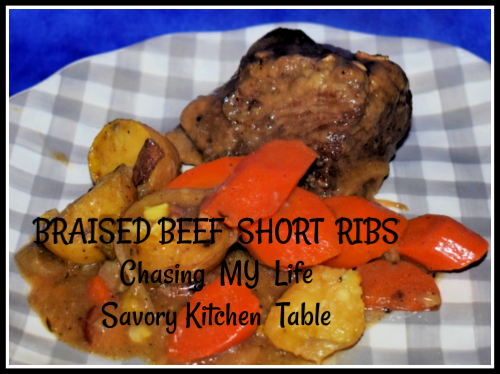 BRAISED BEEF SHORT RIBS — like your grandma's pot Roast, only better
serves 4-6 depending on rib size
8 whole beef short ribs
FRESH ground sea salt and black pepper
1/4 cup wonder flour
3 slices bacon, diced (OPTIONAL)
2 tablespoons avocado oil
1 medium onion, Diced
3 LARGE carrots, Diced
2 shallots, minced
2 cloves garlic, minced
1 celery rib, THINLY sliced
3/4 cup white wine
1 tablespoon Worcestershire sauce
1 tablespoon Bragg's liquid aminos
1 tablespoon apple cider vinegar
2 1/4 +/- cups beef broth
3-4 sprigs thyme
Preheat oven to 350°.
GENEROUSLY salt and pepper ribs, then dredge in flour, shake off excess. Set aside.
In a large dutch oven, cook bacon over medium heat until complete crispy and all fat is rendered.
With a slotted spoon remove the bacon pieces and set aside.
Add the avocado oil to the bacon grease, and increase heat to high.
Quickly brown the ribs on ALL sides, including the ends, DO NOT OVER SEAR. You just want a good coloring and crisp edge.  Remove ribs and set aside.
Turn heat down to medium.
Add onions, carrots, celery and shallots to pan and cook for 2 minutes.
Add remaining dredging flour and stir until blended.
Pour in wine and scrape bottom of pan to release all the bits of flavor.
Bring to a quick boil and cook 2 minutes.
Add broth, Worcestershire sauce, liquid aminos and GENEROUSLY season to taste with FRESHLY ground sea salt and black pepper.  When you're happy with the seasoning, add the ribs into the broth so they are mostly covered by the broth.
Add bacon pieces and thyme sprigs to the top.
Put on the lid and place into the oven, cooking for 2 hours, undisturbed.
Reduce heat to 325° and cook for an additional 30 to 45 minutes. Ribs will be fork-tender and should be falling from the bone.
Remove pan from oven and allow to rest for 15 minutes, lid on, before serving.
Just before serving, skim fat off the top of the liquid. (see note)
Serve with mashed potatoes and carrots.
Ladle a bit of the gravy over the top.
NOTE: I use stale bread pieces to soak up the grease from the top just before serving.