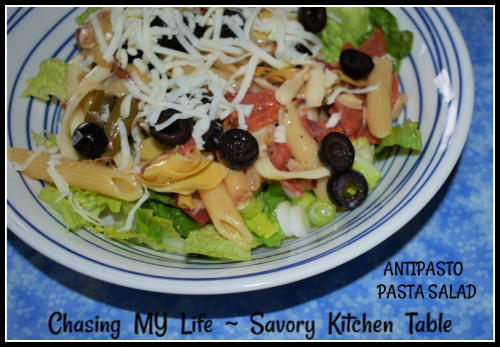 ANTIPASTO PASTA SALAD
8 ounces penne pasta (or available pasta during these trying times)
1/4 cup avocado oil
2 tablespoons apple cider vinegar
2 tablespoons whole grain mustard, *OPTIONAL
Juice and zest of LARGE lemon
1 teaspoon sugar
FRESH ground sea salt and black pepper
1/2 pound salami or pepperoni, chopped
6-8 cups salad greens
14 ounces marinated artichoke hearts, drained WELL and quartered
1-2 cups 2 1/2 bean salad,drained WELL
3/4 cup sun dried tomatoes, drained well and chopped
2 medium vine ripened tomatoes, large diced
1 bunch green onions, sliced thin or 1/2 SMALL red onion, sliced thin
1/2 cup Mozzarella cheese balls, halved
1/2 cup FRESH grated Parmesan cheese
1/2 cup sliced olives, OPTIONAL
Prepare pasta per package directions, drain and rinse with cold water. Drain well.
Whisk together oil, mustard (if using), vinegar, lemon juice, lemon zest, sugar, salt and pepper.
Add pepperoni, artichoke hearts, olives (if using), onions, bean salad and Mozzarella cheese, tossing well.
Fold in salad greens and tomatoes.
Top with Parmesan cheese.
Serve and enjoy!
NOTE: I am deathly allergic to mustard so I make it an optional ingredient, but hubby says it makes the salad better. I also listed the olives as optional because I don't care for them, but hubby once again says they help make the salad 😀