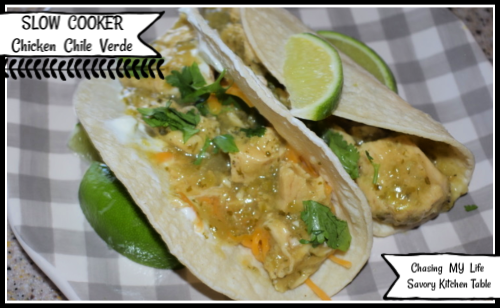 SLOW COOKER CHICKEN CHILE VERDE
3 pounds boneless, skinless chicken breast
2 tablespoons avocado oil
1 white onion, chopped small
1 tablespoon cumin
10 LARGE tomatillos, chopped
3 poblano peppers, seeded and chopped*
3 Anaheim peppers, seeded and chopped*
1 LARGE jalapeno, seeded and chopped*
2 LARGE cloves garlic, minced
1 bunch cilantro, chopped
2 cups chicken broth
3 tablespoons cornstarch
3 tablespoons cold water
Add peppers, garlic, oil and 2/3 of cilantro to food processor. Pulse until smooth with only small chunks.
Quickly sear the chicken and then chop into large pieces.
Spray slow cooker insert with non-stick spray.
Add food processor contents and chicken broth to the slow cooker, whisking to combine.
Stir in cumin, salt and pepper.
Fold in chicken pieces and onions.
Cook on LOW for 4-5 hours until chicken is tender and pulls apart.
Whisk cornstarch and water together until smooth.
Stir into slow cooker, cooking for another 10-15 minutes until desired thickness.
Fold in remaining cilantro just before serving.
Serve with warmed tortillas, shredded cheese and sour cream.
NOTES: For extra flavor char peppers before chopping.