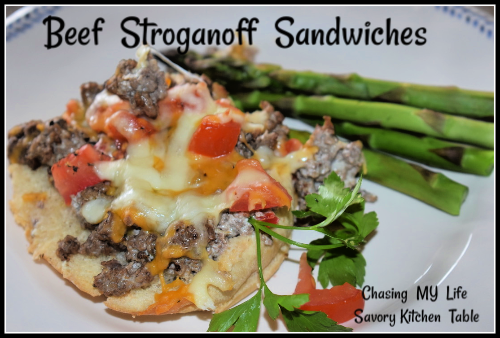 BEEF STROGANOFF SANDWICHES serves 6-8
1 1/2 pounds ground chuck
1 tablespoon avocado oil
1 tablespoon butter
1/2 large onion, chopped small
2 mini red peppers, chopped
3-4 garlic cloves, crushed
1/2 lb mushrooms, sliced thin
2 tablespoons WONDRA flour
1 cup beef broth
2 teaspoons Worcestershire sauce
1/2 cup dry white wine
LARGE pinch sea salt
1/2 teaspoon sweet paprika
1/4 teaspoon white pepper
1 1/2 cups sour cream
2 vine ripened tomatoes, chopped
2 cups shredded cheddar and mozzarella cheese
FRESH potato rolls
Melt butter into oil and sauté onions on low heat for about 10 minutes until golden.
Add garlic, red peppers and mushrooms and cook another 10 minutes (add a little wine for moisture if needed).
Add beef to the cooked mushroom mixture and sauté another 10 minutes until beef is cooked through.
Sprinkle flour in and stir until everything is coated and flour is golden.
Add the broth plus the Worcestershire, wine, paprika, and white pepper to the meat mixture.
Simmer for 10-15 minutes, tasting it periodically, until reduced and beginning to thicken.
Remove from the heat and add the sour cream, careful not to curdle, and stir well.
Preheat oven to 350°.
Cover baking sheet with foil.
Slice open rolls, butter and place halves on baking sheet.
Toast rolls 5 minutes in oven until edges begin to crisp.
Spoon meat mixture evenly over rolls.
Top with chopped tomatoes and shredded cheese.
Bake 20-25 minutes until rolls are crisp and cheese is melted and bubbly.