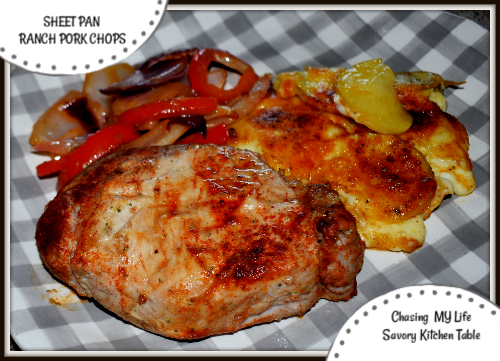 SHEET PAN RANCH PORK CHOPS
5 tablespoons Avocado Oil
2 tablespoons Worcestershire sauce
1 ounce Ranch dressing dry mix packet
FRESH ground sea salt and black pepper
1 LARGE red onion, cut into wedges
1 red bell pepper, seeded and cut into strips
2 small sweet peppers (orange and yellow), seeded and cut into strips
4 THICK boneless pork chops
1 teaspoon paprika
1/4 cup FRESH, FINELY chopped Parsley
Preheat oven to 475°.

In a large bowl whisk together Avocado oil, Worcestershire sauce, ranch dressing mix, salt and pepper until well blended.

Reserve 3 tablespoons in a small bowl.

Add the onions and peppers to the marinade and toss until well coated.

Remove the onions and peppers with a slotted spoon and layer evenly on your sheet pan.

Bake 15-20 minutes until beginning to soften.

Add reserve marinade to bowl.

Add pork chops and toss to coat.

Sprinkle pork chops with paprika.

Add pork chops to sheet pan and bake 7-8 minutes until cooked through and no longer pink.

Sprinkle with Parsley and serve immediately.